Deere To Introduce Combine-Pulled Baler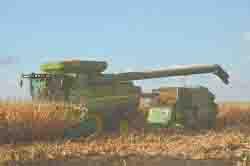 Deere & Company will soon be joining AGCO and others in the crop residue collection business. According to Hillco Technologies, Deere will be introducing a Hillco-designed, Single Pass Round Bale (SPRB) system at farm shows later this year.

Hillco says the SPRB system offers superior quality feed stock, reduced field passes, minimal harvest impact, reduced equipment and manpower, low nutrient removal and additional revenue.

Reportedly, the SPRB will attach to the back of Deere S670, S680 or S690 combines with ProDrive transmissions. A hydrostatic pump installed on the combine engine's output shaft powers a high torque bent axis motor on the trailing Deere 569 baler.

A spout unit on the combine collects corn fodder from the straw chopper via a vaned tailboard. The fodder is blown to an accumulator riding on its own axle and mated directly to the bale chamber. Three sensors track the amount of material in the accumulator bin as it fills. When the bin is full, the baler is engaged and a conveyer and adjustable feed rolls move fodder smoothly into the bale chamber. A gear pump driven off the straw chopper powers the conveyer and feed rolls.

Once the bin is empty, the baler disengages until the bin has again filled and the process repeats until the bale reaches the desired size. At this point, the bale is wrapped and ejected while the bin refills. While the baler can be paused by the operator, all other activities are automatic, leaving the operator to concentrate on the combine.

The baler with its accumulator bin is connected to the combine via a long tongue. When the baler is disconnected from the combine and the vaned tailboard is in the down position, fodder is spread on the field.

According to Hillco, the system is designed to collect about 20 to 25 percent of total residue in a field. This returns the majority of crop biomass to the field to protect the soil and return nutrients and organic matter.

The company suggests that because the stalks are left standing and only some cobs and leaves are collected, bales are less likely to roll on hillsides. Bales are larger and denser (1,700 lbs.) than with conventional post harvest raking and baling. This means they will grind easier. Bales will be much cleaner than with raking, containing significantly less dirt and roots.

Hillco says installation will take about 50 hrs. total. Mounting the blower and electrical and hydraulic connections to the combine will take about 30 hrs., with another 20 devoted to the baler. Company sources suggest the baler connection will likely be permanent.