Wireless Traps Capture Feral Hogs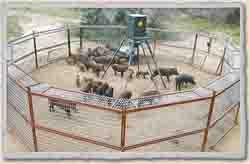 "We've developed a system to trap wild hogs electronically using a cell phone or a computer," says Texas businessman Noel Gouldin. "Our solar-powered Wireless Trap system uses a motion-activated camera to monitor movement in a remote trap, and sends pictures from the trap to a cell phone to let the owner know what's inside. Then the owner decides whether or not to spring the trap door by speed-dialing an activation number." The system is gaining popularity fast because feral hog populations are on the rise in several states.

"Female feral hogs can raise 3 litters of 10 to 12 animals a year," Gouldin says. "If the population is left unchecked, that's 40 to 60 new hogs a year from one animal because they don't have natural predators." Gouldin says one family group of feral hogs can ruin a 100-acre pasture in one night, rutting up large clumps of soil and killing the grass. A rancher or landowner should eliminate 70 percent of the animals every year just to keep the population under control.

The Wireless Trap system can capture one hog or several members of a family group. The company recommends a 6-ft. tall by 30-ft. dia. modular steel gate enclosure for the trap. Panels are pinned together and the headgate opening is equipped with an electronic latch. An automatic feeder is placed inside to entice animals to enter. A motion-activated remote camera is installed at the center of the trap to photograph animals when they enter and send the image to the owner. The camera can also be triggered randomly from a cell phone or a computer.

"After you look at the cell phone image and see what's in the trap, you can activate the headgate immediately with the phone, or choose to wait for more animals to enter the trap so you catch a larger group," Gouldin says. "That's a big benefit compared to traps that are triggered by wire at a feeder."

Wildlife supervisors at the Kerr Management area in Texas were spending more than 3 1/2 man hrs. for every feral hog captured in a conventional pen before using the Wireless Trap system. Now they're much more efficient because there's no guesswork, and a trap isn't tripped with just one animal or a small group inside, says Justin Foster, a Research Coordinator with Texas Parks and Wildlife.