Aussie Built Monster Saw On Wheels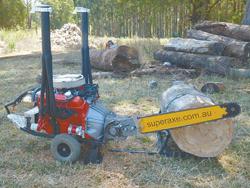 We've seen monster chainsaws before, but we like how an Australian took the backbreaking work out of his big saw by mounting it on wheels.

David Burder, a self-confessed "Rev Head" and engineer and CEO of Whitlands Engineering, says, "to my knowledge it's unique and the only one like it in the world."

About two decades ago he designed the Superaxe wood splitter, which led to manufacturing a range of firewood processing equipment.
Just as he built a better splitter, he knew he could build a monster saw that didn't require two strong men to run it.

Other than the wheels, it's similar to other saws built for speed and showmanship. Burder took a Holden 4.2L V-8 engine out of a car with more than 200,000 miles on it. He ordered a gearbox with a 1.1 ratio right angle drive from Germany, bought other components locally, and designed and made a few parts himself.

The saw resembles an old 090 Stihl and has a 4-barrel quadrajet carburetor. The 728-lb. saw is 8 1/2 ft. long including the 43-in. harvester bar.

"Once complete and after the first test run where all the dubious onlookers were standing well back, it was clear that we had a real beast on our hands," Burder says. "It's really big, extremely loud, and wow, could it cut through a log quickly; just 2.5 seconds to get through a 23 1/2-in. dia. hardwood log."

Since then the saw has drawn crowds at Australian events and was filmed to be aired on Canada's Discovery Channel. A YouTube video (Australian V-8 Chainsaw made by Whitlands Engineering) posted in October has exceeded 1 million views.

"It certainly brings the crowds around to our trade sites at the field days and can only be good for gaining public awareness of our company and the products we are manufacturing," Burder says.