He's Raising Rice In Vermont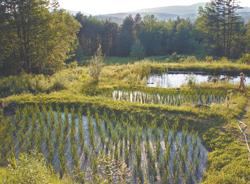 Rice can be raised successfully in northern states, says farmer and author Ben Falk, who?s proving it on his small Vermont farm.

"Our soil is very poor and can't be tilled due to boulders and heavy clay," explains Falk. "Rice is a staple we can grow here using paddies."

Falk carved 5 paddies out of a hillside, located downstream from a larger retention pond. "You don't need a wet area to grow rice; you just need to be able to get water to it," explains Falk. "We flood our paddies every few weeks when the rice is putting on the most growth."

It can be easier to make a paddy in dry soil that holds water than in muck land, he says, and easier to control the water levels. The 12-in. berms allow water levels as high as 8 in. for weed control, though the water level is normally kept at 1 to 4 in. deep.

"Rice likes to be flooded, and it's a good weed control strategy," explains Falk. ?However, flooding isn't required. We are experimenting with growing rice in minimal standing water."

Falk started with seed rice from the USDA Germ Plasm Center, enough to start 20 plants. The variety is grown in the mountains of northern Japan. The first year he grew it in buckets to get seed for the next year's crop. In succeeding years the seeds have been soaked, germinated and planted in flats like vegetable starters, transferred to a cold frame and then to a paddy."

Timing is a matter of getting plants in the ground after the last expected frost with time to mature before frost in the fall. This past year, a late and cold spring slowed the crop too much to mature in the paddies. Even an attempt to transplant rice plants to a greenhouse failed.

"We start our plants in the greenhouse. This adds a month to our growing season, and that is usually enough as the rice needs 120 days to mature," says Falk.

"The amazing thing about paddies is that they rarely lose their accumulated nutrients," he adds. "If they do overflow with heavy rains, the water and nutrients are distributed through a series of swales to trees, bushes and other vegetation down-hill."

Rice hulls are hard to detach from the grain. Falk stumbled across an old dehulling machine that has made a difficult process much easier. He now offers custom dehulling to others in the area trying to grow rice.

"It's a 2-man machine that hulls emmer, wheat and rice, as well as other grains and even oats," says Falk. "We can do 100 lbs. an hour with it, and winnowing the grain from the trash is easy."

Even with the dehuller, Falk doesn't expect rice production to be competitive in areas like Vermont as long as transportation is cheap. For Falk, rice represents a good homestead survival crop.

"I think we should be able to grow the equivalent of 3,500 lbs. per acre," says Falk. "It's nice to have several hundred pounds of rice for human and animal feed."

In his book, The Resilient Farm And Homestead, Falk outlines a number of ways to create a food, energy and water secure homestead. His company works with clients to develop self-sustaining, resilient and regenerative farmsteads, food systems and other projects. He offers tours, workshops and special events at the farm. Falk asks that people contact the farm in advance to arrange visits.