"Splitter Hitch" Pulls Two Balers At Once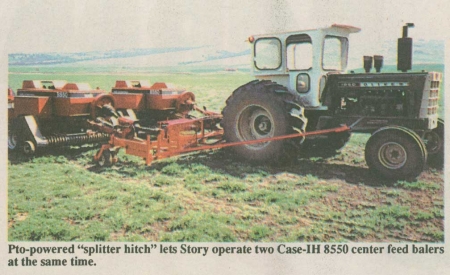 "It lets me bale twice as fast," says Clyde Story, Goldendale, Wash., about his 3-pt. mounted, pto "splitter hitch" that lets him operate two Case-IH small square balers at the same time.
Story already had the two 8550 4-year-old center feed balers. They hitch up to either end of the 17-ft. wide "splitter hitch" which is built from 6-in. channel iron. The hitch is supported by a pair of offset caster wheels on each side. One baler mounts directly behind the tractor and is driven by a pto shaft mounted on the hitch directly in line with the tractor pto. The other baler is mounted off to the right and is belt-driven by a 9-ft. long, 5-groove belt that rides on a pair of 14-in. pulleys.
"I made most of my second hay cutting -- about 100 tons -- with it last summer with no problems," says Story. "If I start baling at 5 a.m., I can easily make 2,000 bales by noon. I built it because my boys are grown up and I don't have any help any more. I figured it was cheaper to build the hitch than it was to hire someone to operate a second baler.

"I find that it's no harder to operate two balers than one. I drop the bales on the ground and pick them up later with an automatic bale wagon. I turn the bales 1/4 turn on their edge so the wagon can pick them up. I modified the bale chute on one of the balers so that bales from both balers fall toward the center, giving me more room to drive in the field with the automatic bale wagon.
"The balers are 11 ft. apart but we use a 14-ft. swather. To set the windrows closer together I adjusted the windrower's deflector shields to throw hay to one side, leaving the windrows 9 to 10 ft. apart. I straddle one windrow with the tractor. The balers have 7-ft. wide pickups so we don't have to shift back and forth much to pick up all of the hay. Originally, I thought I could mount a baler on each side of the tractor but I couldn't figure out how to do it without driving over windrows.
"My 115 hp Oliver tractor has no trouble handling both balers. However, I don't use my splitter hitch on steep hillsides because it's hard to steer the tractor. The pairs of caster wheels are off an old Schwartz bale accumulator. They carry the weight of the tongues on both balers to keep the front of the tractor from getting too light, making it hard to steer.
"Gearboxes would probably work more efficiently than belts, but I would have had to spend a lot for new gear-boxes and I couldn't find any used ones. I spent only a fraction of that for the belt, pulleys, and bearings. I was worried that the belt wouldn't have enough power but it hasn't been a problem. It rides on grooved pulleys so it has a lot of grip. I use a bale tension adjuster crank off an old Deere baler to tighten or loosen the belt."
Story used 2-in. sq. steel tubing to anchor the right side of the splitter hitch to a bracket welded onto the tractor frame. A trailer ball hitch is mounted on each end of the arm.
"We don't have to travel on state high-ways so we just pull the two balers on the road like we do in the field," notes Story.