Hog Sorting Gate Mounts On Skid Steer Loader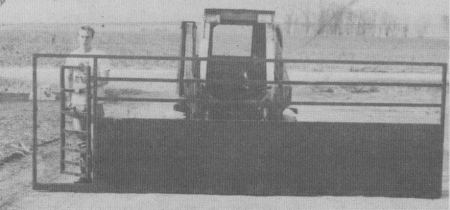 A 15 1/2-ft. wide gate that mounts on the quick coupler at the front of a skid steer loader makes it easy to sort hogs, says Phil Short, Winthrop, Iowa, who raises hogs in open front pens.
"Our pens are 16 ft. wide so we made the gate about a half a foot narrower so it would easily fit between the walls of the pens. The gate lets us crowd the hogs to one end of the pen. Then we sort them for size through a small door that we built into one end.
"We covered the bottom 2 ft. of the gate with a steel panel so hogs can only see through the smaller door, which really helps in sorting them. The frame of the gate is made of square tubing. A 3 by 3-in. square tube along the bottom of the gate provides the strength."