Combine Makes Great Bale Hauler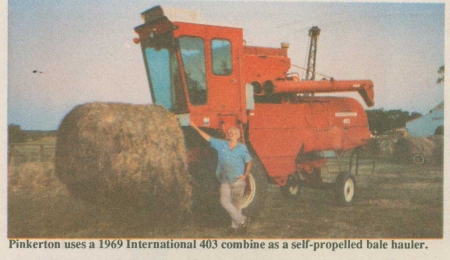 A Kansas farmer who didn't want to spend the money for a tractor with a front-end loader built his own "go anywhere" self-propelled bale hauler out of a 1969 International 403 combine.
Bill Pinkerton, of Milton, removed the combine's platform and feederhouse (built as one unit), and built the bale fork unit out of 3-in. angle iron bolted to a feederhouse from an IH 151 combine. Hydraulic cylinders that raise or lower the feederhouse also raise and lower the 4-ft. long bale forks.
"It works great. I use it mainly to haul bales from the field to my yard, but I've also used it to haul bales from neighbors' fields. I can go down the road at 12 to 15 mph," says Pinkerton. "The 6 by 5-ft. bales I haul weigh 1,500 lbs. each, but they don't strain the combine at all. Most of the weight is on the driving axle so it has good traction. By removing 4 pins I can back out and put the original platform and feederhouse back on. "I had been using a 3-pt. bale fork mounted on my Ford 8N tractor. However, it didn't work very well because the bales were too heavy for the tractor. All I could do was pick up the bale and back up. If I went forward, the front end of the tractor raised up.
"The combine raises the bale only about 2 ft. but I can load bales into a bale feeder by tipping the feeder on its side and shoving the bale in, then using the forks to tip the feeder back up. I can also load bales on a flatbed trailer by parking the trailer in a ditch. The IH 151 combine's platform and feederhouse are built as one unit just like on the 403 model. It would be easier to build bale forks for a combine that has the feederhouse separate from the platform because you could leave the feederhouse on and bolt the forks directly to the platform."