Water-Powered Wood Splitter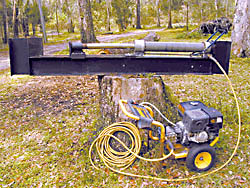 "The only liquid that can ever spill out is water," says Paul Behm about his first-of-its-kind water-powered log splitter that's powered by a high-pressure washer.
Behm came up with the unique machine while looking for ways to get more work out of machines he already owned. It gives him another use for his 3,200 psi pressure washer which would otherwise sit unused much of the time. And it eliminates the expensive hydraulic components that make up most of the cost of a splitter. He has applied for a patent on his new invention and is looking for a partner to help develop it.
Behm's splitting ram has a 2-way valve so there are no external hoses along the cylinder. Just the one hose from the pressure washer that quick-connects to one end of the ram.
"I've used it to split 2-ft. long chunks of seasoned hard oak that was roughly 2 ft. in dia. I was able to split them easily," he says.
Behm likes the simplicity of the splitter. Just the main beam with a single cylinder and splitting wedge on top. No hoses to snag or break and no hydraulic oil to mess with. "It can be used in conjunction with a water reservoir tank to make it a closed system -- if you don't already have a pressure washer -- or you can use it as an open system, as shown," he notes.