He Made His Own Tractor Mailbox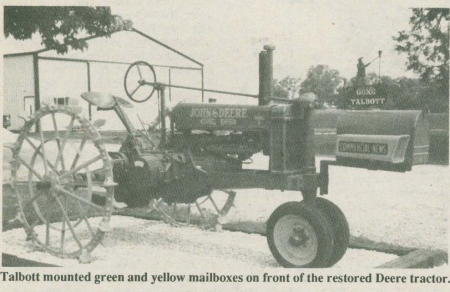 "It's the most expensive mailbox I've ever owned, but it sure catches everyone's eye," says Gene Talbott, Potomac, Ill., who restored a 1937 Deere "B" tractor to perfect condition, then mounted green and yellow mailboxes on front.
"My wife and I had been wanting to build a tractor mailbox fora long time. We finally found a 1937 Deere B," says Talbott. "I didn't care how it ran be-cause I didn't plan to drive it, but the engine could probably be restored to running condition. The tractor had rotten rubber tires with solid cast iron hubs, but I wanted spoked wheels. Deere wanted too much for spoked wheels so I ended up buying spoked wheels made for an Oliver tractor."
Talbott and his family scraped, sand-blasted, painted and repaired the old tractor. They welded the exhaust pipe shut and applied silicone around various hood openings to keep out moisture. They used several coats of primer and paint to protect the tractor from weather. Talbott mounted the mailbox on a metal support that's bolted to the front of the tractor. The last step was to apply Deere decals to the sides of tractor.