New Bale Handling System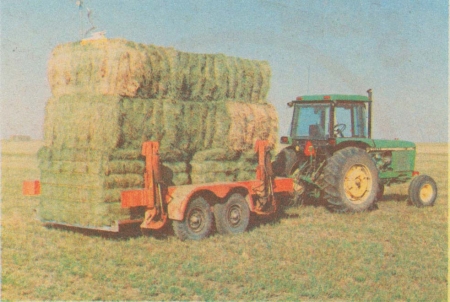 "My mechanized trailer-and-skid bale handling and feeding system eliminates most of the work in handling and feeding both big and small square bales," says Allen Leifer, Peabody, Kan., who has been testing the system on his farm for three years and now builds units for sale. He's also looking for a manufacturer to build the units under a license agreement.
The heart of Liefer's system is a portable steel skid designed to be picked up by a special-built tandem axle trailer. The skid holds up to 10 big square bales or 100 small ones and is also used as the base for a covered feeder. A front-end loader is used to load bales onto the skid. Then the trailer is used to haul skids from the field.
Liefer has developed a metal tie-down lid for his bale skids that lets him store bales in the field. He also designed an innovative covered feeder that's built on a frame similar to the skid and can be moved with the trailer. He uses a tub grinder to chop bales and blow hay into the portable feeder to feed cows out in the field.
"My system brings the barn to the cow. It puts manure in the field where it belongs instead of in a feedlot, reducing environmental pollution problems and also eliminating the need to haul manure back to the field. Best of all, it eliminates most of the labor needed to make hay. Bales are handled only twice once when they're stacked on the skid and moved off the field, and again when they're fed to cows."
Liefer feeds bales to cattle wherever he intends to plant crops the following year so he can plow down the manure. "Most farmers have to feed their beef cows every day, but I only have to refill my portable covered feeder once or twice a week. It's almost like having a portable barn. I tell people that it's the first barn ever made that has no real estate taxes."
Liefer thinks his new system makes handling big or small square bales much easier than handling round bales. "Most farmers really aren't happy with round bales because they're prone to spoilage. If you want to limit feed to good alfalfa, it's next to impossible to feed a portion of a round bale. Not only does a round bale use more string, but the tractor must stop to unload every bale, not to mention the fact that spoilage losses of 25% are common. Good alfalfa hay is often worth just as much per pound as corn, but does anyone allow 25% of their corn to spoil? Round bales do reduce labor, but most farmers still handle round bales one or two at a time. My skids handle 10 big square bales or 100 small rectangular bales."
The 8-ft. wide, 13-ft. long skids weigh 200 lbs. and are built with rails running lengthwise bolted to 4 by 3-in. cross members. The skids are lifted by a 2 1/2-in. dia. pipe welded on each side. The trailer, built from 8 by 10-in. steel tubing, is equipped with eight 3 1/2 by 24-in. hydraulic cylinders. Four cylinders operate two retractable steel hooks mounted on each side of the trailer, and the other four cylinders lift the skid 10 in. off the ground. You unload the skid from the trailer by lowering it to the ground, then retracting the hooks.
Liefer uses a New Holland big square baler designed to make a 3 by 4 by 8 ft. long bale. However, he makes his bales only 7 ft. long in order to fit the skid. "If the bales were longer than 7 ft. they'd interfere with the trailer during loading," notes Liefer, who stacks the first tier of bales on edge to protect the strings. He stacks bales on their sides for the second and third tiers.
Each metal lid for covering bale stacks weighs 150 lbs. and is lifted into place with a front-end loader.
Liefer also built a portable calf shed that goes with the system to protect and creep feed calves in the pasture. It's equipped with a front gate and a creep feeder at the rear that can be filled by an auger wagon.