---
Check out our FREE Classified Ad sites!
Miniature Pigs Make Great House Pets
FARM SHOW Magazine
» Miniature Pigs Make Great House Pets
Miniature Pigs Make Great House Pets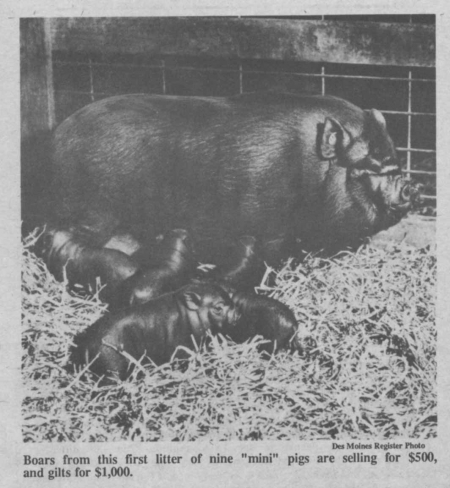 A rural Iowa couple recently got into the exotic hog business when they purchased a pair of rare Vietnamese "mini" pigs. Soon after the purchase, a litter of nine pigs was born. Half of those pigs have already been sold.
Robert Briggs and his wife, Nancy, bought the hogs in August, 1986 from exotic animal dealer Dave Hale, Cape Girardeau, Mo. At that time they were two of only 27 Vietnamese hogs in the U.S. Hale originally brought his breeding stock to the U.S. from Canada.
Adult Vietnamese "mini" pigs weigh only about 80 lbs. at maturity and stand just 16 to 18 in. high. They've got wrinkled, funny-looking faces and a much friendlier disposition than the average hog, according to Nancy Briggs. "They make great pets because they're friendly, smart and they don't get any bigger than an average-size dog. Most of our interest has come from people who want to keep a hog as a pet but don't want a 300-lb. porker wandering around the house," Briggs told FARM SHOW.
Before coming to their farm near Boone, Iowa, the pigs were cleared for disease. Robert Briggs is a veterinarian at the USDA National Animal Disease Center in Ames, Iowa. There hasn't been any disease problems with the animals and they have no special eating peculiarities.
The Briggs got their first litter last winter and they're expecting another litter this June. Although they haven't yet butchered any of the hogs, they've heard from people who have had a chance to try Vietnamese pork. "One fellow who served in Vietnam during the war told us they taste as good or better than Iowa pork," says Nancy, noting that another market for the mini porkers may be as research animals or exhibits in petting zoos, thanks to their dog-like friendliness.