---
Check out our FREE Classified Ad sites!
Fast New Way To Build Grain Bins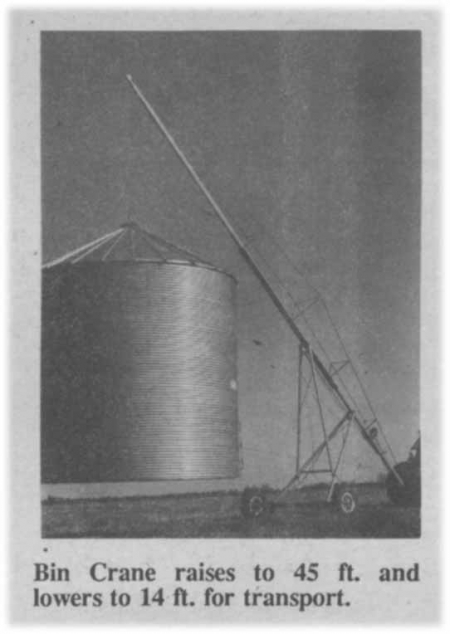 "Our Bin Crane is faster than bin jacks because you merely lift the bin with the winch as you add each ring," says Marvin Baumle, manufacturer, Kelsey, Alta.
The 45-ft. bin crane can lift up to 8,000 lbs. with a 12-volt electric or hydraulic winch. The bin is lifted by attaching the lift cable to a tripod hook or tire. It's capable of setting a 5,000 bu. bin onto a hopper bottom.
The crane pulls easily behind a 1/2-ton pickup and lowers to 14 ft. for road transport. It'll raise up to 45 ft. for building bins, setting rafters, lifting machinery, or any lifting chore. Axles extend from 9 ft. to 14 ft. in width for extra stability.
The 45-Ft. Bin Crane also comes in a smaller 35-ft. model.