---
Check out our FREE Classified Ad sites!
Cost Saving Implement Carriers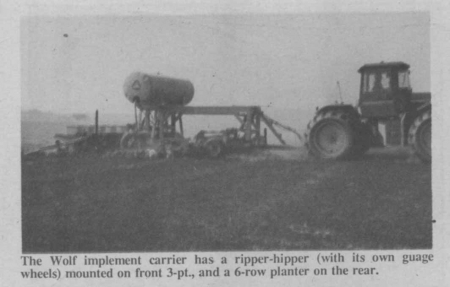 "It's boosting yields and lowering our production costs," says Arkansas farmer Fowler Wolf, of Fisher, who teamed up with son Craig and cousin Steve Carpenter, who farms near Waldenburg, to design a "double assist" implement carrier that lets them gang 3 pt. tillage, planting and spraying equipment for "one pass" operation.
The Wolfs and Carpenter "brain-stormed" the concept, consulted with Kenneth Rennicke, a neighboring farmer and mechanical engineer, then hired Bob Dennis, owner of Dennis Mfg., in Waldenburg, to custom build two implement carriers -- one for the Wolfs and one for Carpenter.
The carriers are identical and similarly equipped, with an 8 row planter on the rear 3 pt, and a home-built combination "ripper-hipper" on the carrier's front pto. It features a double disc "hipper" with an 8-shank ripper attached to it in front, and a single disc hipper attached behind to put on the "finishing touch" in dressing and shaping 30-in. wide beds ahead of the planter. The coupled-up "ripper-hipper" attaches to the carrier via the center hipper's 3 pt., rides on its guage wheels, and is raised and lowered with a 24 in. (4 in. dia.) cylinder.
The 8 row planter attached to the carrier's rear 3 pt. is equipped with a front-mounted "bed knocker" and a monitor. It's raised and lowered with a 16 in. cylinder. Insecticide is carried in the planter boxers and band-applied herbicide is carried in a 1,000 gal. tank mounted on top the implement carrier directly above its four 9:00 by 20 heavy-duty, army surplus land leveler wheels.
The Wolfs and Carpenter each used their implement carriers last year and again this year to plant about 1,000 acres of corn and soybeans. "It really works great and is a tremendous cost-saver," says Carpenter. "I used to make as many as seven trips over the field to prepare the seedbed and plant the crop. With this new rig, I do it all in one pass. What's more, I use the same 3 pt. tillage and planting equipment I was using before so my only investment was in the custom-built carrier. I can use it as double assist for combination tilling and planting, or it can be used as a single assist for special tillage or other operations. The carrier is extremely versatile and could be used with row crop equipment up to 12 rows, and with 3 pt. or pull type cultivators and drills for once-over planting of small grain and other crops."
The Wolfs previously planted corn and soybeans using three men and three tractors to prepare the seedbed and plant the crop. Now, thanks to their new implement carrier, they do it all in one pass with one machine, one man and one tractor. "We're not exactly sure what accounted for the estimated 10 bushel yield increase we got last year with the once-over till-plant operation but we think it was due primarily to reduced soil compaction and the fact that, with the planter never more than a few feet behind the ripper-hipper, seed is always planted in moist, freshly-tilled soil," Wolf points out. "We pull the rig with an 8630 Deere which moves it along at 4 1/2 to 5 mph. That's fine for planting corn but we could use more horsepower to get more speed for planting beans."
The carrier's two horizontal main frames, made of 4 by 6 in. tubing, are suspended about 5 1/2 ft. above ground level. "About 70% of all the weight is carried by the carrier, and about 30% by the tractor," says Carpenter. "The complete rig turns short enough on the ends with 8 row equipment to come back in line for the next pass."