---
Check out our FREE Classified Ad sites!
Powered Rear Window For Pickups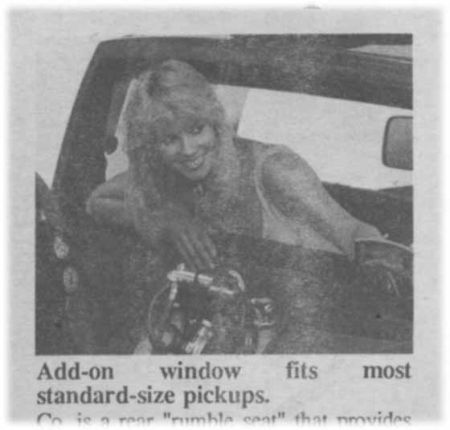 "It's one of the most popular new accessories for pickups we've ever introduced," says Richard Townsend, sales manager, of the new powered rear window from the C.R. Laurence Co., of Los Angeles, Cal.
At the touch of a dash-mounted switch, the one-piece window moves up or down to provide whatever ventilation control you want without sacrificing rear visibility, and without taking your attention away from the road.
Designed for do-it-yourself installation, it comes fully assembled in an encased unit that fits neatly behind the seat and uses the original window gasket. A quiet electric motor powers the glass up or down in contoured channels, stopping at any point you wish. Sizes available to fit most makes of standard or mini-size pickups.
The C.R. Laurence Co. also offers manually-controlled sliding rear windows for most makes of pickups. They come in three models -- clear glass in aluminum finish frame; clear glass in a black finish frame; and 31% Graylite tinted glass in a black finish frame.

Also new from the C. R. LaurenceCo. is a rear "rumble seat" that provides comfortable seating for two extra passengers. The "2nd seat" is ready to use in 60 seconds, then rolls up and stores behind the cab seat in a nylon bag. Comes with dual seat belts, full-length headrest, and telescoping steel spars. Available in a variety of colors.