Sit Down Arm And Leg Exerciser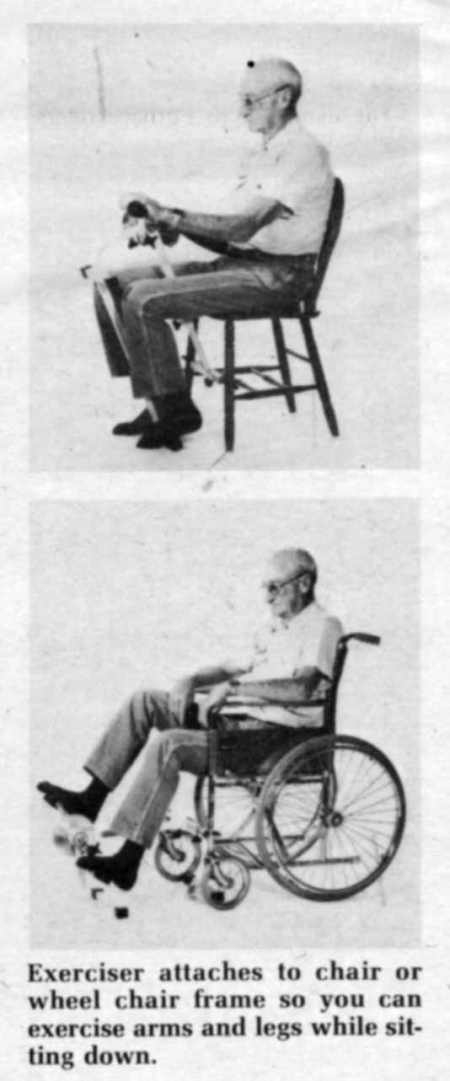 If you're looking for an exercise device for an elderly friend or relative, this new "Country Boy" arm and leg exerciser may be just what you need.
The new exerciser can be used for both upper and lower body exercise from a sitting position in a chair or wheelchair.
Marvin Dranselka, Wayne, Neb., came up with the idea. "When my dad was sick and needed leg therapy, he had to spend 3 weeks in the hospital. I decided he could get the same benefits at home but stationary bikes weren't suitable for him since he was a big man with poor balance. So I built this unit which let him exercise sitting down. Later, when a friend busted his arm and elbow in a combine belt accident, I got to thinking about making it a dual purpose device to exercise both arms and legs," explains Dranselka.
For leg work, the exerciser simply slips beneath the chair. It has an adjustable drag to vary resistance on pedal rotation and telescopes out to adapt to the size of the user. It holds tightly to the frame of the chair.
To work arms, it quickly lifts to a standing position with one telescoping bar on the floor and one working as a stabilizer between chair legs. All gears are teflon-coated so they make practically no noise. Brace bars are plastic-capped so they won't scratch furniture.
"It also provides mental therapy. An elderly or handicapped person often think they can't handle it but once they do there's a feeling of accomplishment and a sense of satisfaction," says Dranselka.