Portable Windbreak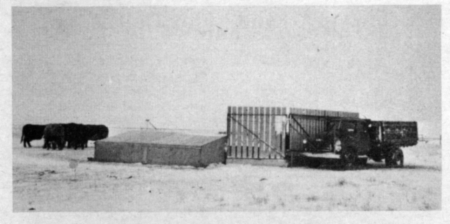 "Works great for spring calving out in the open," says Harvey Boland, Mankota, Sask., about the portable windbreak he built on the chassis of a 1951 Chevrolet 2-ton truck.
The windbreak consists of 7-ft. long, 1 by 6-in. boards mounted vertically -- spaced 1 1/2 in. apart -- on a box beam frame. Its three pieces include a 19-ft. wide center frame and two 8-ft. wide wings. The two wings fold in against the truck when in transport. To cover the gap at the bottom of the windbreak, and yet still be able to easily move the truck for transport, Boland attached 1 by 12-in. boards on hinges that can be folded down once the wings are in position.
"We often have winds up to 70 mph in the spring so we park the truck out in the open and pull our 5 wooden calf sheds up around it. If the wind shifts directions, we can easily start the truck and reposition it," explains Boland, noting that the 35-ft. long windbreak folds up in just minutes for transport. He notes that jack stands attached to the truck's front and rear bumpers keep the truck from rocking on it's springs in a strong wind. Boland also uses the truck as a shelter when taking care of big repair jobs in the field during strong winds.