SHOP TIP of the Week - Weed-Eater Lines Addes To Mower Deck Blades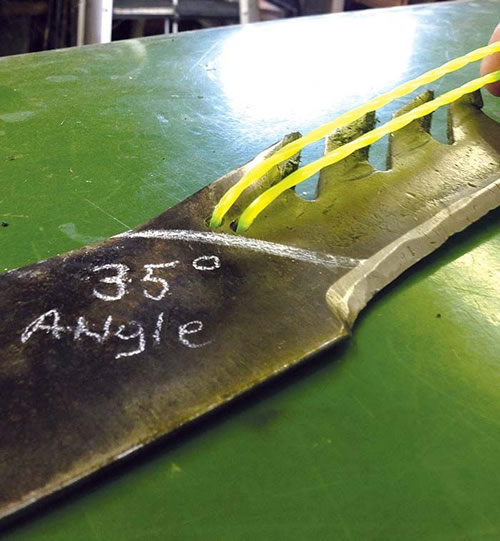 "It pulverizes leaves into small pieces for fast decomposition without any lawn raking whatsoever," says Steven Simpson, Quincy, Ind., who attaches weed trimmer line to the blades on his Deere 430 riding mower equipped with a 60-in. deck.
Pairs of 18-in. long weed trimmer lines loop through holes that Simpson drilled into the mower's mulching blades. There are 3 blades on the deck and 2 trimmer lines per blade. As the blades rotate, centrifugal force lays the lines over without overlapping.
"It works better than anything I've ever used," says Simpson. "I mow about 5 acres with more than 50 trees on it so I have a lot of leaves to get rid of. Saving time is important to me because I'm a single dad raising a teenage daughter who's in about every sport you can think of.
"I used it for the first time last year. I went over the yard 3 times in the fall and then once again this spring to take care of a few leftover leaves. I replaced the lines only once during that time. I had been using the mulching blades by themselves for 6 years, but it took a lot longer because I often had to go over the same area several times. The combination of the trimmer lines and the mulching blades produces a continuous mulching action that reduces leaves almost to dust. I can usually hit the lawn once and I'm done."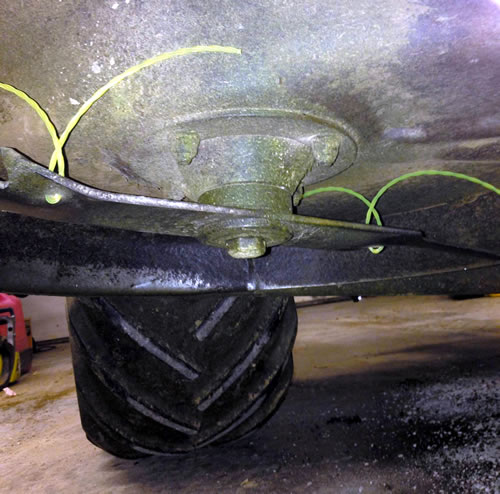 "I drilled the line mounting holes at about a 35 degree angle to the blade, which keeps the lines spaced about 1/4 in. apart," says Simpson.
He used his drill press to cut a pair of holes about 1/4 in. apart about 1 ft. from each end of the blade. The holes are the same size as the trimmer line.     
He uses .95 dia. twisted trimmer line with sharp edges on it. "Bigger .105 line would probably work better, but I used what I had," he says. "To determine the length of line needed I first cut it a little long. Then after I looped the line through the holes I cut it off even with the end of the blade. The line simply loops through the 2 holes so it's easy to replace."
Want To Read More?
Recieve FARM SHOW's unpublished stories & archived favorites delivered directly to your inbox!
CLICK HERE to Sign-Up for FARM SHOW's NEWSLETTERS!
Want even more FARM SHOW?
CLICK HERE to quickly & securely Subscribe for 12-months of FARM SHOW Magazine!