Build Your Own Cement Block Swimming Pool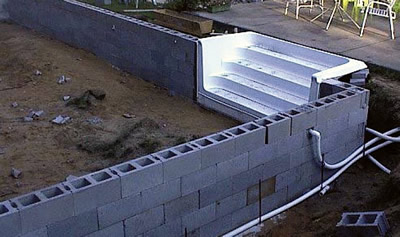 Building your own swimming pool with cement blocks isn't hard, according to Darrell Buchholz. He built one for a friend, and now sells plans for others to do the same.
"I built a pool for myself using pressure treated wooden sidewalls, but I live in sandy soil, which is more forgiving for wood-based walls," says Buchholz. "A friend's mother wanted to put one in, but couldn't afford a commercial installation. I offered to do it for her. I took lots of photos and based my plans on it."
Buchholz says both the wood and concrete block pools are doing fine after several years of use. Liners will wear out and have to be replaced within 10 to 15 years. Since posting his plans for sale on his website and sites like Gizmoplans.com, he has sold several hundred sets of plans. Plans can be downloaded for $19.95 or may be special ordered on CD or paper, but at a higher price.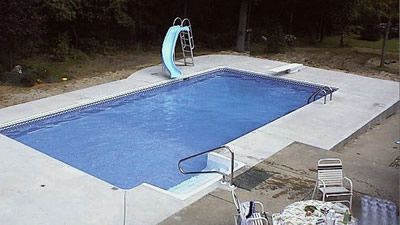 "You do need some familiarity with masonry and plumbing, but you don't have to be a professional," says Buchholz. "My plans are for do-it-yourselfers."
The plans include the building materials needed, location planning and layout and each step in the construction process. There are plenty of color pictures and diagrams detailing layout and footings to building the cement block walls and more. He also includes detailed explanations of installation of hardware and liner, all the way to filling the pool and installing a deck.
"I emphasize planning and being conscious of future possible changes," says Buchholz. "Installing changing rooms or making other changes requires forward planning for electrical and other aspects of the plan."

Want To Read More?
Recieve FARM SHOW's unpublished stories & archived favorites delivered directly to your inbox!
CLICK HERE to Sign-Up for FARM SHOW's NEWSLETTERS!
Want even more FARM SHOW?
CLICK HERE to quickly & securely Subscribe for 12-months of FARM SHOW Magazine!