World's Largest Round Barn?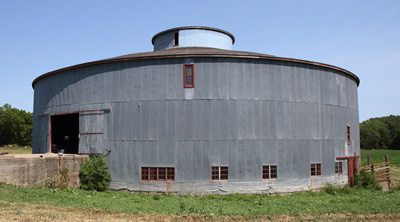 A giant round barn in Nebraska is the biggest in the world, according to people involved with the structure. The Nebraska barn, in Red Cloud, tops out at 65 ft. high and 130 ft. in diameter. It was built for use as a farm barn. Built in 1902 and 1903, it housed a herd of Holstein cows, the feed they ate, and farm machinery. The barn had 3 levels totaling 40,000-sq. ft. of space. Hay was stored on the top level, grain and machinery on the middle level and livestock on the lower level. A brick silo in the center provided additional feed. The barn relies on tension and stress to hold it together, rather than nails and pegs.
"Our barn has hosted family reunions and other gatherings large and small," says Liz Rasser. Rasser's husband is a relative of the Starkes who built the barn. His family has owned and maintained it since the Starke's dairy failed in the 1920's.
The Rassers have replaced the roof and are renovating the barn as funds are available. Metal siding was installed after World War II. She notes that even though the barn is on the National Registry of Historic Places, there are no state funds available for restoration.
"The roof and the foundation are in good shape, but there is a lot to do," says Rasser. "The doors tend to blow off, and we are trying to find a way to fix them in place without changing the historical character of the barn. It has 180 windows, and we are slowly replacing and repairing them."
Want To Read More? Recieve FARM SHOW's unpublished stories & archived favorites delivered directly to your inbox!
CLICK HERE to Sign-Up for FARM SHOW's NEWSLETTERS!
Want even more FARM SHOW?
CLICK HERE to quickly & securely Subscribe for 12-months of FARM SHOW Magazine!