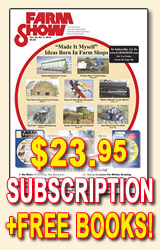 FREE CLASSIFIED ADS
Sponsored by FARM SHOW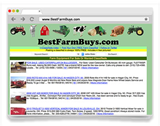 ---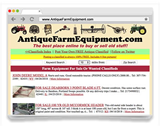 Tech-Savvy Inventor Builds Robotic Waterer

"I've been interested in electronics and robotics ever since high school," says Dave Dorhout, inventor of a robot waterer for greenhouses.
"Aquarius is the culmination of 18 months of research and development. It carries 30 gal. of water and can accurately water individual plants or flats of plants, reading sensors that calculate precisely how much water to apply. It can also be configured to give each plant a predetermined amount of water specified by the greenhouse manager.
"You just set it and forget it," Dorhout says. "Because of its advanced technology, it's very easy to calibrate and setup. It has only 2 switches. One turns it on and off and the other is a dial that adjusts how much water it dispenses."
Aquarius is about the size of a powered floor cleaner. It rides on rubber wheels, guided by a custom sensor under the robot that detects a track of tape placed on the greenhouse floor. Its path can be changed at any time, even when the robot is watering. The robot uses sensor whiskers much like those on a house cat to determine the location of a potted plant and how much water it needs. It then dispenses the specified amount of water and moves on to the next plant.
"Aquarius is like the most skilled plant care technician a greenhouse has ever had," Dorhout says. "It will follow specific instructions programmed into its computer and produce repetitive plant care with 0 percent error."
"It can be used in any greenhouse that relies on hand watering without having to modify the greenhouse or provide special training to the staff. Its tank holds about 30 gallons and when that's gone, Aquarius automatically senses that it's empty, drives up to a refill station, automatically refills the tank, then returns to the spot in the greenhouse where the water ran out without missing a beat."
Precision industrial grade optical encoders guide the electric drive system and give power to each wheel so it moves forward and steers as needed. Power distribution is adjusted 10 times a second. Fully loaded, Aquarius weighs about 500 lbs., but Dorhout is quick to point out his oversized worker never needs to eat a big meal for energy. "Aquarius uses a regenerative braking system common in new electric cars to recharge its batteries as it brakes. It also has 4 microcontrollers with 24 processors so it can do 24 different things at once. "It's a multi-tasking workhorse," Dorhout says, "and it's never distracted by random thoughts or loud music. It just does what you ask it to accurately and dependably."
Dorhout says the concepts and technology that he used on Aquarius can also be applied to other agricultural tasks such as feeding or bedding cattle, collecting and harvesting vegetables, and fertilizing growing plants. "Robotics are the new frontier in agriculture," Dorhout says. "We'll be seeing many new applications in the not too distant future."
Aquarius is "built to order" and costs from $8,000 to $12,000 depending on final size, configuration and options such as remote or video monitoring. More information can be found on the company website.
Contact: FARM SHOW Followup, David Dorhout, Dorhout R&D, 705 Garnet Drive, Ames, Iowa 50010 (DDorhout@DorhoutRD.com; www.DorhoutRD.com).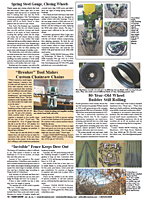 Click here to download page story appeared in.
To read the rest of this story, download this issue below or click

here

to register with your account number.

2013 - Volume #37, Issue #5