Simple Way To Remove Rust
Here's an idea developed by a group of tractor restorers in California that might come in handy for anyone who's got to clean rust off old metal parts.
The idea comes to us courtesy Engineers & Engines Magazine (1118 N. Raynor Ave., Joliet, Ill. 60435), a publication for enthusiasts of antique power equipment. Don Ross, an aerospace engineer in California recently devised this method for the group in California.
The accompanying illustration shows two different methods, depending on the type of vat you use. A 15-ampere battery charger is preferred. Fill the vat to the desired level with tap water. Plug in or turn on the battery charger, switch to 12-volt output and note the current flow on the battery charger meter. Unless your tap water is extremely hard, the current should read "zero" (water is only a good conducter when you're standing in it). To conduct electricity between the two electrodes, you need to add a salt or acid solution to serve as an electrolyte. You can use either common table salt or crystal-type toilet bowl cleaner. You're better off with toilet bowl cleaner if you're working in an area where salt water could get splashed onto grass.
In either case, dissolve a pound in a gallon of water and start to add the solution slowly to the vat water until the current flow becomes excessive for your particular battery charger, then add more tap water.
After the rusty part has "cooked" for about an hour, remove it, hose it off, and then scrub with steel wool or a wire brush. Continue "cooking" until all rust has been removed or until you see that the process starts pitting the metal. If one side of the rusty part becomes "derusted" early-on, you can turn the part around to expose the remaining rust to the positive electrode.
When the "cooking" is finished, hose-off the part and swab it with a diluted solution of phosphoric acid.
(Submitted by Menno L. Kliewer, 43138 Road 52, Reedley, Calif. 93654)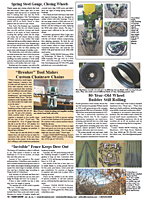 Click here to download page story appeared in.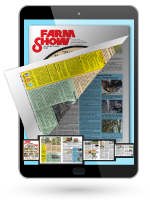 Click here to read entire issue
To read the rest of this story, download this issue below or click
here
to register with your account number.