Ostrich herd boost income
Dale Coody had been looking for something, to increase the income on his dairy farm. One day in 1983 he saw an advertisement in a magazine offering ostriches for sale.
He learned that the sellers wanted $1,500 for an adult male. Grown females went for $1,000. The giant birds reach 8 to 9 ft. tall. Adult males weigh up to 425 lbs. and females about 300 lbs.
"Friends and neighbors thought I was crazy," he recalls. `But one day I decided that I definitely wanted to have some ostriches. Before that day was over I had located some chicks about the size of turkeys. They didn't cost quite so much so I bought a male and three females. I have never regretted it a minute.
"Today I have about 40 adult birds and they are some of the most unusual and interesting creatures I have ever worked with. There's an excellent market for them. I could sell twice as many as I can produce. As a matter of fact, I am reducing my 110-cow dairy and increasing my ostrich business. Because of a write-up about me and my ostriches in the Wall Street Journal and some other national publicity, I receive telephone calls daily from interested people and owners all over the country.
"They are a real practical production animal. The skin is needed for leather to make cowboy boots, the meat tastes very much like beef, and the feathers are used in women's apparel and decorations. Also, infertile eggs are in demand for their unusual size - some people like to decorate them."
Coody says he feels it will take five or more years before raisers in America can accumulate enough ostriches to supply the market for breeders. Then they can start broadening the market for skins, meat, feathers and eggs.
"Before I started raising ostriches I put a pencil to the possible profitability. It looked good then and still does," says Coody. "A healthy female will normally lay 30 to 50 eggs per year. If from these you can raise 20 chicks that sell for $600 to $750 each at two months old, that is a cash flow of $12,000 to $13,000 per year. No dairy or beef cow can provide that kind of cash flow. That's why I'm reducing my dairy herd and increasing my ostrich herd," declares Coody.
When he started raising ostriches he had a hard time getting good information on breeding, handling eggs, and raising chicks. The people who sold him the chicks wouldn't give him any information. He dug up the facts he needed himself.
"I'm happy to share what I have learned with anyone interested," says Coody. Evidence that he means what he says is given in the form of a 36-page booklet he has written, giving details on the practice of ostrich production. Everyone who buys one of his birds gets a copy of the book.
In his book, Coody makes it clear that raising ostriches requires work and special care. They must be kept in small groups, one male with two or three females. Good fences but no barbed wire. Eggs much be gathered daily and incubated under con-trolled temperature and humidity. Chicks should be kept off the wet ground for up to two months. "With proper handling and care, ostriches can become a great opportunity," says Coody.
For more information, contact: FARM SHOW Followup, Dale Coody, Rt. 1, Box 71A, Lawton, Okla. 73501 (ph 405 353-3078).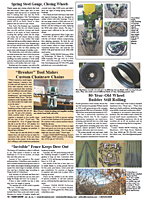 Click here to download page story appeared in.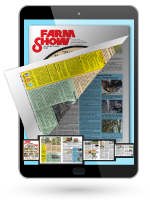 Click here to read entire issue
To read the rest of this story, download this issue below or click
here
to register with your account number.