Slickest Speedometer We've Ever Seen
Everything you've ever wanted in an all-purpose speedometer for your tractor, combine, sprayer, fertilizer applicator or other equipment has been built into the revolutionary Speedo-Area Recorder.
Plans for marketing it throughout U.S. were being finalized by RDS Agricultural, Walworth, Wis., as this issue of FARM SHOW went to press.
With the new Speedo-Area Recorder mounted on the dashboard, you get:
• A continuous direct reading of ground speed.
• A continuous reading of area worked, using any implement.
• A reading of distance traveled or "incremental area" ù the exact area covered with a grain drill, corn planter or sprayer since the last loading of hoppers and/or tanks.
• When metric comes, the Speedo-Area Recorder you buy now will be ready for it. Just flip a switch and all the readings automatically convert to metric.
"One of the most important of the Speedo-Area Recorder's exclusive functions is accurate measurement of ground speed," Jim Brown of RDS Agricultural, told FARM SHOW. "This enables the driver to achieve consistent accuracy with a crop sprayer, fertilizer spreader or other equipment. It also makes for optimum efficiency in operating tillage and harvesting equipment," explains Brown.
Here's how he sizes up other features of the new-style "does everything" speedometer:
Distance covered readings: "They're included in the Speedo-Area Recorder because they're essential for calibration of crop sprayers and fertilizer spreaders."
Incremental area readings: "They give the driver a completely new extra item of information not provided by any other instrument. If the button marked 'reset' is pressed whenever a drill, spreader hopper, planter or sprayer tank is filled, the incremental area reading will show what area the first filling covers, and
will subsequently give an instant indicator of how soon ù in area terms ù another refill will be due."
Brown points out that selection of any read-out on the digital displayswitching from "Area" to "Speed" or "Incremental Area" for example ù does not cancel the other readings, which are retained in the instrument's memory and continue to add up.
The signal for operation of the instrument is taken from two magnets attached to a non-driving wheel ù the front wheel of a tractor or the rear wheel of a combine. A signal is picked up every turn of the wheel by a transducer fixed to the king-pin assembly. Operation is not affected by mud or other field conditions.
When the Speedo-Area Recorder is fitted to any tractor or other self-propelled machine, an initial figure for distance traveled per revolution of the non-driving wheel is entered into the instrument's memory. You simply set the selector switch to "Wheel Revs" and drive the tractor forward until the display shows a given number of revolutions ù 10 is a convenient number. The distance covered is then measured on the ground, divided by 10 and entered into the instrument memory by turning the selector switch to the appropriate position and pressing the "Adjust" button to increase or decrease until the required figures appear on the display.
When starting in the field with any implement, its working width is entered into the instrument in the same way as distance covered per wheel revolution. Once this has been done, the instrument has all the necessary information in its memory to calculate area worked.
The new Speedo-Area Recorder, complete with mounting brackets and wheel magnets, costs $547.
For more details, contact: FARM SHOW Followup, RDS Agricultural, Box 814, Walworth, Wis. 53184 (ph. 414 275-5128).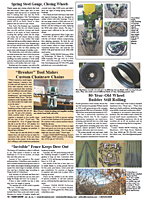 Click here to download page story appeared in.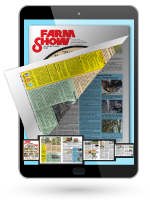 Click here to read entire issue
To read the rest of this story, download this issue below or click
here
to register with your account number.