Don't Make These Mistakes: --Japanese Yew --Amoniated Feed --Transmission Oil
If you raise livestock, you can learn some valuable lessons from the following "mystery deaths" which these unsuspecting farmers encountered.
A Wisconsin dairyman came out one morning and discovered his cows literally dying like flies. By 11:00 a.m., Bill had 11 dead cows. At 5:30 that afternoon, no others appeared to be sick. But, by 9:30, four more were dead," recalls Dr. L. C. Allienstein, a large animal practitioner at Whitewater, Wis., who recently reported on the case in his "Cowside Practice" column in Hoard's Dairyman.
The night before, a gate to the dry cow lot had been left open and the animals got out. They wandered up around the house and back porch where they found some inviting evergreen shrubs to chew on.
"There was the answer to the mystery deaths. The evergreen shrubs were the commonly grown Japanese yew variety. All parts of this shrub ù foliage, bark and seeds, whether dry or green ù are toxic to people and to all livestock", Dr. Allenstein pointed out. "In another instance, a dairyman trimmed his Japanese yew shrubs and, unaware that they were poisonous, threw the trimmings into a cow pasture. He lost six heifers," notes Dr. Allenstein, who warns that "the yew shrub should never be planted around a farm where livestock are housed. There is no known antidote or treatment other than to open the stomachs surgically and empty the contents."
Ammoniated feed has been blamed for cattle deaths in several dozen reported cases throughout the U.S. where anhydrous was piped into piles of medium to good quality forage. The animal deaths have prompted extension livestock specialists in Kansas, Indiana, Illinois and other states to re-evaluate their "how to" recommendations for ammoniating various grades of roughages.
Old transmission: oil painted onto the wooden beds of haywagons as a preservative was pegged as the most probable cause of sheep poisoning on an Ohio farm. Apparently the sheep licked the oil off the wagons while using them for shade, according to a report on the mysterious poisoning in The Ohio Farmer. Specialists note that old transmission oil contains triaryl phosphates which, even in very minute amounts (as little as 13 parts per million, which is equivalant to 40 single soybean seeds in 38 bu.) can be deadly to livestock or humans. "Cattlemen have used old transmission oil in back rubbers. Mechanics work in it every day and don't always wash their hands before they grab some food," says the frugal sheep farmer who wasn't aware of the deadly danger associated with used transmission oil. "We're still not 100% sure this is the cause. But this is something we could get our hands on, and I want to prevent others from making the same mistake," he noted in the Ohio Farmer report of his costly experience which cost him a ram and several ewes.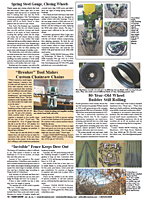 Click here to download page story appeared in.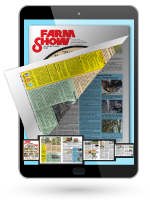 Click here to read entire issue
To read the rest of this story, download this issue below or click
here
to register with your account number.