Grain Bin House
Two 36-ft. dia., 22 ft. high corrugated bins, placed side by side, partially buried and connected by a tunnel, make a dandy "grain bin house" for North Carolinan Dean Kennedy.
Kennedy has lived in his "bin house" for 10 years. "It's very economical and less expensive than other earth-sheltered home designs. It's rat and mouse proof and the round bin design and corrugated sides withstand pressure from soil to prevent cave-ins."
About 75% of the sides of each bin is covered by dirt. The upper 8 ft. of the south sides of both bins is covered by brick. Each "bin house" includes a central hallway and three pie-shaped sections divided into rooms. One bin contains a family room, kitchen, pantry, dining room, bathroom, and prayer room. The other bin contains three bedrooms, walk-in closets, two bathrooms, and a utility room. Each bin has its own entrance covered by a canopy built out of the top portions of 8-ft. dia. bins. A 15-ft. dia. storage bin and a carport are connected to the house.
Exposed exterior walls are covered by polyurethane insulation and brick while interior walls are covered by sheet rock that was bent to fit the curve of the walls and nailed to 2 by 4 studs. A skylight covers the top opening of each bin. The ceilings were formed with 6-in. sq. wood beams which arch up-ward toward the skylight, creating an umbrella effect. Inside each bin is a spiral stair-case which leads to a balcony. One staircase overlooks the family room and is used as extra living space for large gatherings. The other staircase leads to a balcony containing an office that's complete with a built-in desk Both bins are heated by one wood stove set inside a 9-ft. wide granite stone hearth that reaches to the ceiling. The stove heats rocks which radiate heat that's recirculated by overhead vents. "Hot air collects near the ceiling, is sucked through the vents, and redistributed through ducts to other parts of the house," says Kennedy. "Overhead ceiling fans keep the house uniformly cool and hot."
Hot water is provided by 12-gal. electric hot water heaters placed directly above each bathroom and kitchen. The heaters are operated by electric switches on the walls. "It's an economical system," says Kennedy. "We can heat 12 gal. of water in less than 15 min. We turn the heaters on shortly before we need hot water and turn them off when we're done."
To build the "bin house", Kennedy excavated two round 36-ft. dia. holes in a hillside, stopping 2 ft. above the water table. He poured concrete foundations and set the bins on them, then installed drain fields around the bins to keep water from seeping into them. He used 4 in. of poly-urethane foam to waterproof and insulate the exterior of the bins.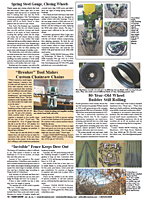 Click here to download page story appeared in.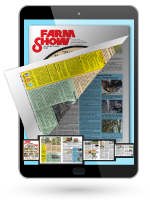 Click here to read entire issue
To read the rest of this story, download this issue below or click
here
to register with your account number.