Farmer-Built Sod House
An authentic sod house recreating the historic sodbuster era of the late 1880's, complete with an interior furnished just as it would have been in pioneer times, is now open to the public on the farm of Stan and Virginia McCone, of Sanborn, Minn.
You're welcome to stop by and take the grand tour. And, if you really want to relive history, you can write ahead for reservations for you and your family to sleep over-night in this authentic sod house which sleeps five on two double beds and a single.
The 36 by 21 ft. structure, with 2 ft. thick walls cut from native prarie sod, fulfills a childhood dream for McCone. In constructing the "soddy," he had to first build a sod cutter to harvest the virgin prairie which he found on some bottom land south of San-born.
The sod was cut in 1 ft. widths, 4 to 6 in. deep, and later sectioned into 2 ft. blocks which were loaded on a hay rack and hauled to the McCone farm.
In building the sod house, the McCones piled row after row of sod blocks, one atop the other, staggered like bricks for strength, grass side down and the cracks filled with loose dirt.
McCone estimates that 300,000 lbs. of sod were used to build the house. The roof, made of 24,000 lbs. of sod, rests fully on the "soddy's" sturdy walls.
McCone set the door frame and windows into the sod walls as they went up. The floor, roof, window frames and door are made from planks cut from fir beams salvaged from an old Minneapolis flour mill. The chimney bricks are from a 112 year old kiln in nearby New Ulm.
Log rafters support the wooden plank roof, which was first covered with tar paper and then with a 3 in. layer of sod, grass side up.
The McCones furnished the interior with authentic furnishings dating back 100 years ù wood burning stoves, beds, quilts, a dresser, wardrobe closet, wash stand, lamps, table and chairs, commode, rag rugs, a leather fainting couch and curtains.
"At one time, there were thousands of sod houses on the prairies, but there were no blueprints showing how to build them," says McCone. "You just built what you could with what you had to work with. If you had the resources, you built a splendid sodhouse. Some were two stories high, with gables, and were filled with fancy furniture that came in big freight wagons.
"But, if you had your family with you right off the train and it was late September, you might have built a humble, modest dwelling with a blanket over the doorway. A lot of people came onto the prairies with nothing more than a wooden barrel for a table. Their sod houses were small and had dirt floors."
The McCones seeded 10 acres in front of their sod house to blue stem grass "so it will be surrounded by authentic prairie just like it would have 100 years ago." Their farm is located 1 mile east and 1/4 mile south of the junction of highways 71 and 14 north of Sanborn in Southwestern Minnesota.
For more information, contact Stan and Virginia McCone, Rt. 2, Box 75, Sanborn, Minn. 56083 (ph 507 723-5138).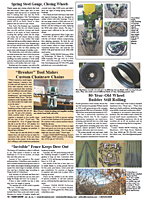 Click here to download page story appeared in.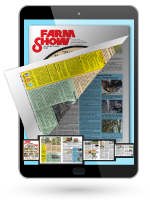 Click here to read entire issue
To read the rest of this story, download this issue below or click
here
to register with your account number.