Willard Water: Does It Really Work?
FARM SHOW has received a flood of letters and calls from readers wondering where they can buy "that Willard Water that was featured on the 60 Minutes TV show ù the stuff that does everything from cure aches and pains to preserving silage to deodorizing hog houses. Is it for real? Does it really work? Where can I buy it?"
Frankly, your guess is as good as ours as to whether it's for real, and whether it works. But we can tell you where to buy it.
The product gets its name from its discoverer, Dr. John W. Willard, now a retired chemist from the South Dakota School of Mines in Rapid City, S. Dak. The "CAW" stands for "catalyst altered water". Dr. Willard explains that it is the same liquid as normal water, but the structure and arrangement of the molecules have been changed.
The altered water started out as a cleaning solution formulated in Dr. Willard's laboratory. When used with compounds such as oil or lignite, it formed an even more potent water with surprising properties. He called it "lignite activated water" or "carbonaceous activated water". This material made plants grow better and livestock gain faster. CAW Water was patented, and production began on a small scale in the early 1970's.
Skeptics contend that Willard Water is nothing more than just plain ordinary water. They note that no scientific tests have been done to check claims by those who swear by it.
Meanwhile, popularity of the product has prompted "fly-bynighters" to try their hand at duplicating the water and to cash in on its popularity. CAW Industries has been running a series of advertisements, cautioning people about products that might be passed off as genuine Willard Water. The company says fake or diluted versions are being sold under such names as Wonder Water or LA Water.
Art Jones, Sales Manager for CAW Industries, says even Dr. Willard himself doesn't know how his miracle water works. "We think that the special structure of the water attacks the lignite and tears apart the benzene compounds, changing them to alcohols," he says. "The alcohols combine to form amino acids, trace minerals, and maybe some vitamin A and some protein."
Dr. Willard calls his product a "normalizer" or a stress inhibitor. He explains it this way:
"A living thing cannot perform at its best when under stress. Willard Water has the ability to relieve that stress. In a plant treated with the water the root system penetrates deeper and the foliage is thicker, so the plant needs less fertilizer.
"In animals, things are not normal with feed additives and antibiotics. The water relieves the stress so the body can function normally. Without stress, an animal makes greater gains on less feed. It's not a tranquilizer, it's a normalizer," he says.
The altered water is known as "Triple X", and it is from this concentrate that larger volumes are made to use as plant spray, drinking water, feed preservative, and other uses.
For example, one ounce of "Willard Water XXX", diluted to one gallon of normal water, makes a solution for root plant cuttings or transplant seedlings. Two ounces per gallon of water will preserve 1,000 pounds of silage or high moisture feed.
A more potent mixture of 4 oz. per gal. of water makes the standard stock solution which is further diluted for livestock drinking water, plant fertilizer or side dressing for liquid fertilizers.
The smallest amount of altered water for sale is a 1 oz. bottle for $4.95. A 4 oz. bottle of "Triple X" is $6.95, a pint $19.95, and a gallon $110.
To check some of the results of using Willard Water, FARM SHOW talked to long-time users of the product, Jim Dickey and Don Morgan, of the Black Hills Quail Farm near Rapid City, S. Dak. They have used it for 7 years in the drinking water of their chickens and quail. "In chicks, it prevents the shock of shipping," says Dickey. "In adults, it has nearly eliminated all stress and the birds gain faster on less feed."
Dickey's neighbor grows African violets in a greenhouse with Willard Water being the only fertilizer.
Numerous customers swear by Willard Water as a treatment for burns, a disinf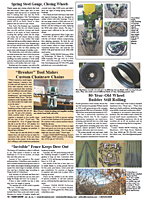 Click here to download page story appeared in.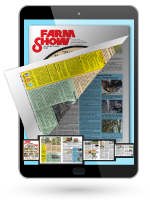 Click here to read entire issue
To read the rest of this story, download this issue below or click
here
to register with your account number.