Manufactures Of Combine Parts
A-G Mfg., R.R. 1, Box 16A, Juniata, NE 68955, 402/1751-2580. Rear axle extender.
Air Design, P.O. Box 248, Scobey, MT 59263, 406/487-2238. Cab-controlled fan speed adjuster and other parts.
All-Trap, 200 S. 9th St., Terre Haute, IN 47807, 800/ 457-0771. Combine chopper repair.
Argis Ltd., Box 154, Listowel, Ont. N4W 3G8 Canada 519/291-4205. "Upside down" cutterbar.
B&M Farms, P.O. Box 120, Rt. 2, Williamsport, IN 47993, 317/893-4412. Chain and belt tensioning system for row crop heads.
Baker Built Products Inc., 11877 Walnut Grove Church Rd., Ohio City, OH 45874, 800/451-9464. Grain flow control.
Harlan Bestland, Box 99, Brunkild, MB, Canada R0G 0E0, 204/736-4207. Cleaning sieve adjustment from cab.
Harvey Bish, Harv's Farm Supply, Giltner, Neb. 68841 402/849-2674. Kits to put one company's header on another company's combine.
Ear Corn H2O Meter, 21 Sunset Rd., Bloomington, IL 61701, 309/828-9685. Harvested grain moisture meter.
Easton Products, Inc., Rt. 3, Box 172, Blooming Prairie, Minn. 55917 507/583-6610 or 800 448-4571. Reel and Paddle Wraps stop reel wrapping problems.
Ed-Ka, P.O. Box 37, Garfield, Wash. 99130 509/635-1521. Hydraulic feederhouse reverser.
J.E. Eftoda, Box 222, Calder, Sask., S0A 0K0 Canada 306/742-5810. Grain Saver for back of combine.
Alfred Egbers, Uehling, NE 68063, 800/462-2588. Auger flighting.
E-Z Trail Inc., Hwy 133 E., P.O. Box 268, Arthur, IL 61911, 217/543-3471. Head hauler.
Field Technologies, 223 West Main, Lisbon, IA 52253, 800/238-6042. Grain loss monitors.
Golden Bell Inc., R.R. 6, Hwy. 161 E., Centralia, IL 62801, 618/532-8073. Head transporters.
Gordon Harvesting & Equip., 6720 Par Lane #3, Wichita, Kan. 67212 800/745-1680. Duo-action rotor bars for IH specialty rotors.
Leland H. Harris & Sons, P.O. Box 104, Slater, Mo. 65349 816/529-3408. Grain deflector stops hillside losses.
Honey Bee Mfg., Ltd., P.O. Box 120, Frontier, SK, Canada S0N 0W0, 306/296-2297. Draper headers to 50'.
HR Mfg. Co., Rt. 1, Box 71, Pender, Neb. 68047 402/385-3220. Cob catcher stops ear loss.
W. A. Johnson, 12406 Taylorsville Rd., Louisville, KY 40299, 800/523-3979. Feeder house dust diverter and grain-saver/rod( guard.
Ben Kambeitz, Box 93, Richmound, Sask. S0N 2E0 Canada 306/669-7973. Vacuum pickup saves shattered grain under header, and angled concave.
Kuelker's Mfg., Ltd., P.O. Box 160, Didsbury, AB, Canada T0M 0W0, 403/335-3389. On-site knife serving unit.
Loewen Mfg., Box 820, Altona, Manitoba R0G 0B0 Canada 204/324-8621. Low-price combine parts.
Macdon, 680 Moray St., Winnipeg, MB, Canada R3J 3S3, 204/885-5590. Draper headers and pickup reels.
May-Wes Mfg. Inc., Gibbon, MN 55335, 507/834-6572. Poly skid shoes, paddles and chaff spreaders.
Maxi-Spout, Box 402, Griswold, Iowa 51535 712/778-4394. Wrap-around spout stops grain "splash".
Olson Agri-Business, R.R. 2, Box 47, Sherburn, MN 56171, 507/639-6890. Combine pto for tag-along grain cart.
Parker Industries, Hwy 30 East, Jefferson, Iowa 50129 515/386-2195. Header cart.
Penno's Machining, Box 122, Eden, Manitoba R0J 0M0 Canada 204 /966-3221. Remanufactured concaves.
Pixall, Clear Lake, WI 54005, 715/263-2112. Pixall Knife Rolls.
R&M Supplies, 405 Fourth Ave. SW, Clarion, IA 50525, 515/532-3867. Bean-saver attachment.
REM Mfg. Ltd., Box 1207, Swift Current, SK, Canada S9H 3X4, 800/667-7420. Pneumatic chaff spreader.
Rake-Up, P.O. Box 908, Rosetown, SK, Canada S0L 2V0, 306/882-2233. High capacity combine pick-up.
Reel Mfg. & Sales, Rt. 1, Box 132, Stonington, M. 62567 217/325-4066. Reel enlargement kit.
Rek-Tin Inc., P.O. Box 56, Drakesville, IA 52552, 800/343-1069. Electric-hydraulic header controls.
Replacement Flighting Supply, P.O. Box 311, Industrial Park, Aurora, NE 68818, 402/694-6536. Replacement flighting.
Rodman Welding & Mfg., 305 South Railroad, Jasper, Minn. 56144 507/348-4133. Stabilizer bar for wide-axle combines.
Rodono Industries, R.R. #1, Clive, AS, Canada T0C 0Y0, 4031784-3864. Feeder chain reverser and grain tank extender.
Schwerin, Wichita, KS, 800/648-4517 Concaves and cylinder bars.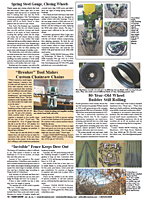 Click here to download page story appeared in.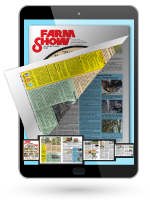 Click here to read entire issue
To read the rest of this story, download this issue below or click
here
to register with your account number.