Deere 5020 Equipped With 8630 Engine
"It's as agile as a Deere 4020 tractor and as powerful as an 8630," says Harry Isaac, Saltcoats, Sask., who spent 300 hours rebuilding his 1967 Deere 5020 2-WD tractor, doubling horsepower by replacing the 120 hp diesel engine with a used 240 hp diesel engine from a Deere 8630 tractor.
Isaac, who designed the tractor mainly to make drainage ditches and do other earth moving jobs, mounts a 9-ft. wide Degelman blade (designed for 4-WD tractors) on front and pulls either a home-built 16-ft. leveling blade or a 7-yard hydraulic-powered scraper behind. He bought the 5020 as a junker with 6,000 plus hours for $2,000. He rebuilt the engine, turbocharged it, and used it for a year before it wore out. He replaced it with the 8630 engine and also equipped the tractor with a White 2-105 cab, a Deere 4640 hood, and oversized 30.5 by 32 rear tires.
"I needed more horsepower, but I couldn't justify buying a newer, larger tractor," says Isaac. "I planned to replace the engine with an 855 Cummins diesel engine which would've cost $6,000 to $8,000. Then a Deere dealer told me that the 8630 engine would fit right in my 5020. I found two used engines for less than it would've cost to rebuild the old one. The engine I installed had 3,500 hours. The engine's extra horsepower combined with 5,000 lbs. of weights that I added to the tractor, improved its horsepower-to-weight ratio. Itconverted the 5020 from a clumsy, sluggish tractor into a snappy one that responds very quickly. We also use this tractor for tillage work, but we don't like to work it too hard for the simple reason that these engines don't have a very good reputation for long life. We think that if we work it at 50 to 75% of rated horsepower and at less than rated rpm, it will last a good while longer. The only time we work it at full power is when filling the scraper, and that takes only 10 seconds at a time: the tractor's weight is balanced so that in 5th gear the rear wheels can still spin instead of the tractor lugging down. The blade adds enough weight in front that the tractor still steers fairly well under load. I put just enough air in the 16 by 16.1 front tires to keep them up, which makes for a smoother ride over ridges and stones. However, because of the extra weight I have to be careful not to get stuck in soft ground or let the front wheels drop into holes or ruts while turning sharp as this simply causes the steering cylinder brackets to break. I have to remember that it's an overweight farm tractor, not an industrial earth mover."
With the exception of the cab itself, Isaac kept the modified tractor as "Deere" as possible, using parts from a Deere 8630 (engine, cooling fan, and muffler), 4440 (hydraulic pump and air conditioner), 6030 (hydraulic pump mount, radiator, and springs for a ceramic disc clutch), 4850 (fan shroud), 5010 (hydraulic lines and fittings), 4640 (hood, fuel tank, Quad shift linkage, and air conditioning condenser),105 combine (cab ladder), and 8820 combine (air filter precleaner).
Isaac replaced the 5020 cab because it was noisy and wasn't air conditioned. He bought the used White cab from a neighbor for $500. "The White cab is comparable to Deere's Generation II cab and fit the 5020 perfectly. It's air-conditioned, quiet, and comfortable." He replaced the 5020's hood with the longer 4640 hood when he stretched the wheel base 12 in. in order to make room for the 4640's fuel tank and air conditioning condenser.
He mounted the 4440's air conditioner in the cab, then remounted the steering box in the console and moved the noisy steering proportioner valve underneath the tractor. He connected the 4640's Quad shift linkage to the 5020's 4-speed transmission. "It now shifts much nicer," says Isaac. He installed the 4440's hydraulic pump, which he bought from a salvage yard, for less than it would've cost to repair the 5020's worn-out pump. The new pump also improved hydraulic capacity.
In order to change the air filter pre-cleaner, the hood had to be raised so he installed a rubber mount and latch system at the rear of the hood that allows him to eas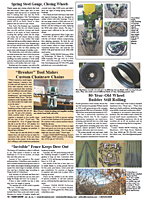 Click here to download page story appeared in.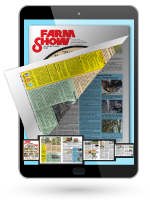 Click here to read entire issue
To read the rest of this story, download this issue below or click
here
to register with your account number.