Owner's Report On Best, Worst Pickups
"It's a hodge podge of foreign-made parts that are a nightmare to service or repair. We've had no major problems in 5,000 miles but I dread the day it sputters," says John Spears, Cotulla, Tex., unhappy with his 1986 Ford F-150 Super Cab with 5-liter engine, fuel injection and overdrive. "Why can't they build a no-frills truck that an average farmer can operate, service and repair. Fuel economy on this truck is no better than my 1977 F-150 Super Cab with a 351 cu. in. engine. Gets about 12 mpg. Next time I'll buy a foreign pickup because that's what you get anyway and they're cheaper."
Norman Foelimi, Sparta, Wis., owns a 1981 Ford Courier with a 2.3 engine. "It steers hard. The dealer said there's nothing we could do because the ball joints are lubed for life with sealed bearings. I called Ford and they referred me back to the dealer, who did nothing. I finally loosened the rubber boot around the ball joint and found one that had no grease from the factory."
Ed Bates, Condon, Ore., had trouble with his 1984 Dodge Power Ram 350 1-ton with crew cab. "It's a good truck but it has severe vapor lock problems in warm weather. The fuel line is routed above the muffler. The tank outlet needs to be changed to the left side and fuel lines routed up the left side of the frame away from exhaust heat. We bought it to pull our 27-ft. travel trailer but during several trips we've had trouble whenever the temperature gets in the 80's and 90's. It loses power or stalls. We rerouted fuel lines and installed an electric fuel pump, as well as a new fuel tank, but it didn't solve the problem. Chrysler came out with a modification kit after nearly 2 years to solve the problem but wouldn't install it on the pickup because it was no longer in its original condition due to our modifications. We wouldn't have worked on the truck if it had performed in the first place. We've stopped making payments to Chrysler."
Vernon Goering, Moundridge, Kan., owns a 1982 Ford F-150 Super Cab short wheelbase pickup. "It's equipped with a 300 cu. in. 6-cyl. engine. It's economical, has good power, and is easy to service. We've driven it over 111,000 miles and feel it's too good to trade off."
"It performs well but fuel economy is poor. We get just 8 to 9 mpg," says Joe Wiwi, College Corner, Ohio, pleased with his 1983 Ford XLT 4-WD. "We've had very little trouble in the first 50,000 miles, although the tires had little traction and wore through at 20,000 miles. Construction and paint are good."
Charley Chaney, Willow, Alaska, says his 1977 Chevrolet EL Camino has been a "best buy". "We're very satisfied. It's got 160,000 miles with only minimum routine maintenance required. I don't know why they ever changed it."
"We have 115,000 miles on our 1974 Dodge D100 pickup and I'm sure it'll go another 50,000 miles before overhaul. All we've had to buy are tires, shocks, spark plugs and three batteries. We get 22 mpg with the 4-speed transmission. We will have to have a brake overhaul soon for the first time. It still has the original clutch even though we do lots of trailer pulling," says Andy Gustad, Volin, S. Dak.
"My 1983 Dodge Ram ¢-ton has plenty of power with its 318 engine and holds the road very well. We have had a few problems with the front drive, however," says Willard Sonner, Easton, Minn.
"Transmissions on 1980 model Chevrolets don't hold up. Many owners have installed older Chevy transmissions. I installed a '72 transmission when the one in my 1980 Scottsdale went out at 30,000 miles," says Herman Funk, Lisbon, N.Dak. "We've had other troubles with this pickup, too. The dealer wouldn't honor the warranty on the springs so one side of the pickup is 2 in. lower than the other. The dash lights often go out and the cruise control never worked. It has a very poor paint job and the chrome trim won't stay on. We had to attach it with screws."
"Our 1985 Ford F-150 XL pickup with fuel injection gets good gas mileage of 19 to 20 mpg on the high-way and 14 to 15 around the farm," says Robert Macha, Marlin, Tex.
John Bakker, Tyler, Minn., likes his 1984 Ford 250 XL w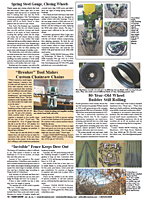 Click here to download page story appeared in.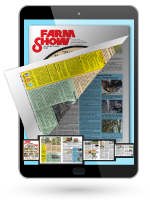 Click here to read entire issue
To read the rest of this story, download this issue below or click
here
to register with your account number.