Owner's Report On Best, Worst Passenger Cars
Are you satisfied with your car? How could the manufacturer improve performance, comfort, fuel economy, construction and maintenance? What accessories have you bought for your car?
These are some of the questions we asked randomly selected passenger car owners in an effort to highlight those cars that perform with flying colors and to pinpoint the lemons that fail because of poor performance, or failure of the dealer or company to provide service.
Here's how the survey shaped up:
"We've had nothing but problems from day one," says Dennis Johnson, Shabbona, Ill., about his 1985 Pontiac STE 6000. "The fuel pump's been replaced twice, the computer brain replaced once, the stereo failed, and we installed new wiper and fog light switches. It gets poor gas mileage and backfires. If the engine were replaced these problems might be solved and it might have more 'get up and go'. It also needs more leg room for the driver. The dash is too low and gets in the way of our knees. We won't buy another GM car but we will buy American."
Jim Clemens, Corcoran, Minn., is happy with his 1986 Ford Escort. "It gets 36 mpg average, has sufficient room inside, is smooth-shifting, starts dependably, and gives a quiet ride. Maintenance is easy except for the oil filter, which is in a fairly hard to reach position."
"Everything is just right. They should make them all like this," says Albert Baerg, Abbotsford, British Columbia, about his "best buy" 1985 Volkswagen Jetta which he says gets as high as 70 mpg and averages 45 to 50 mpg.
George F. Flewelling, Woodstock, New Brunswick, has had good luck with his 1985 Dodge 4-door Aries. "We bought it with about 15,000 miles on it and it now has over 30,000 miles and has never caused a minute of trouble. We averaged over 37.5 mpg on a trip last year. Wouldn't know what improvements to make on this car."
"It's the top car in its class," says A.T. Haines, Vermilion, Alberta, about his 1986 Oldsmobile Delta 88 Brougham, noting that the only improvement it needs is in the area of fuel economy. He says he'd buy another one rather than a foreign model. "I prefer to buy Canadian or American-made cars since I live and work in North America but I think we should thank foreign car makers for putting some sense back into our manufacturers."
"We're extremely satisfied with our 1982 Chevrolet Chevette 4-door diesel. The first 17,000 miles we kept an accurate record and it averaged 42¢ mpg on both short and long runs. We wish it shifted easier, though," says Edward Reiter, Boscobel, Wis., who says that since GM recently stopped making the Chevette they'll buy an Olds Cutlass or Buick Century for their next car.
"This 5.7 liter diesel engine has 160,000 miles on it and the only major repair has been rebuilding the injection pump," says Greg Zellmer, Atlantic, Iowa, about his "best buy" 1981 Oldsmobile Cutlass.
Steve Coens, Reedsburg, Wis., is well-pleased with his 1987 Plymouth Voyageur mini-van. "We've only had it for 6,000 miles but we've had no trouble. It has enough passing power and excellent visibility. Mileage is 19 to 22 mpg, which I think could be improved. I fitted it with running boards which helps get in, keeps mud off and keeps rocks from chipping paint."
"Our 1983 AMC Eagle wagon rides well and plows through a lot of snow even when it's out of 4-WD. It's also fantastically well-built. A friend slammed his full-size Ford pickup into the back of the car. There was almost no damage to the car but the pickup looked like he'd wrapped it around a tree," says Angela Fischer, Marlette, Mich., who notes that the car has a problem carburetor. "It's been adjusted twice and now the choke keeps sticking. Gas mileage isn't very good at 17 to 20. No one seems to know how to work on the carburetor. If they improved the carburetor, we'd buy another Eagle."
Roger Jones, Frankfort, Kan., owns a 1983 Buick Lesabre Ltd. "It has 75,000 miles on it with just minor repairs. It burns no oil, gets around 20 mpg and gives a good ride. However, it had a poor paint job on the trunk lid and, after a few washings, the primer showed th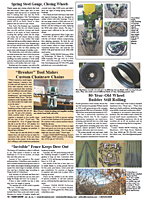 Click here to download page story appeared in.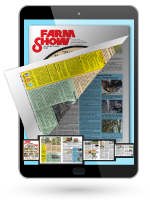 Click here to read entire issue
To read the rest of this story, download this issue below or click
here
to register with your account number.