Young Auctioneer's Calling Came Early
Some teenagers like to sleep late on their birthday. Others prefer staying out late with friends. Garren Walrod preferred to spend his 17th birthday in a different pursuit.
Rising early on a recent Saturday morning, he cheerfully observed his birthday by going to work. Holding a microphone in one hand while pointing out bidders with the other, he called out prices in confident cadence to a captive audience.
Walrod, still a high school junior in Mound City, Kansas, has as much experience in the auction ring as men two or three times his age. This year he will celebrate his 11th anniversary as a livestock auctioneer.
"I got started as an auctioneer when I was six years old," he says, as if it were nothing unusual. "My father is the owner of the sale barn in Fort Scott. He often took me with him to the regular Saturday sale."
Garren would watch with wonder while a room full of people shouted and waved. Clerks scribbled furiously while ring attendants paraded big, muscular animals across the sand. Cattlemen of all shapes, ages and sizes had come from miles around just to be in this room for this event. And at the focus of all that activity, all the excitement and attention was one man - the auctioneer.
Little Garren admired the influence the auctioneer had over the crowd, the animals, the staff. He was fascinated by the strange lilting speech pouring from the man's lips. Garren wanted to know what it felt like to control such respect.
"They didn't know I had any interest in it," remembered Garren. "I talked to my dad about it a couple of times and one day he gave me a chance."
In 1976, his father Bob finally gave him the spotlight. Near the end of one trading session, the regular auctioneer stepped aside and let Garren auction off the last two cattle.
"I was pretty nervous the first time," Garren says, "but they realized I was taking the job seriously."
Sale barn staff members were impressed by how professionally such a young lad handled himself. He was asked back to the microphone with increasing regularity.
Garren quickly became popular as a novelty with the local cattlemen. "I guess about the time I was 10 years old or so, I became the regular weekly auctioneer."
Garren began collecting cassette tapes of professional auctioneers, and listened to them the way other young men listen to music. "I have had other auctions mail me tapes. I've written to auctioneers all around the country. I have tapes in my collection from Kansas, Missouri, Colorado, California. I have tapes from the last three years of the national auctioneering contest finals. When I'm sitting around with nothing else to do, or out driving the car, I listen to the tapes."
In 1981, at the age of 11, Garren became the youngest person ever to appear in the World Livestock Auctioneer Championship. Held that year in St. Paul, Minnesota, the annual contest featured over 100 of the most respected auctioneers in the country.
Garren took home no awards from the event, but is proud just to have been included among such a prestigious few. He was unable to return to the national competition in subsequent years. The year after his performance in St. Paul, new rules were established placing a minimum age of 18 for competition. "I don't think they changed the rules because of me. There had been several people in the contest under 18." A year remains before he can enter again, but he will be ready.
In the meantime, Garren continues to add to his experience. Several times he has been asked to serve as auctioneer at private production sales, where bidding can run into many hundreds of dollars. "I once sold an animal for $6,000 at a registered Longhorn sale in Oklahoma."
Garren's ambition led him to honors in both 4-H and FFA. He currently serves as eastern region director of the 900-member Kansas Junior Livestock Association.
Clearly, Garren Walrod is a young man fated for success. His reputation and popularity rival those many years his senior. Right now Garren has his eyes set on college. "I'd like to get started doing livestock judging," he says. "It sure would be nice if I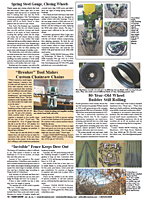 Click here to download page story appeared in.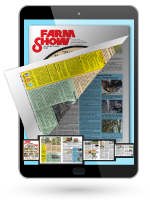 Click here to read entire issue
To read the rest of this story, download this issue below or click
here
to register with your account number.