Rural Couple Raises Exotic Birds In Basement
Jack and Kathy Mulville operate a confinement breeding operation at their rural home near Moravia, Iowa. Unlike their neighbors who raise hogs, however, they raise parakeets.
The Mulvilles keep about 200 breeding birds in a specially-built room in the basement of their house, where the temperature and humidity is carefully controlled. They sell the offspring to people in three surrounding states, delivering most by car but shipping a few by air. They also sell to pet shops, and sometimes to people who come to their door.
"Each breeding pair produces about 15 birds per year which we sell when they're about two months old. That's how long it takes the male bird to teach the babies how to eat on their own," says Jack.
The Mulvilles specialize in parakeets with California colors, better known as pastels. Violet is the most popular color, followed by blue, yellow, white and charcoal grey. "Pastel-colored parakeets are very popular now," says Jack. "We sell all we can raise for $8 each."
Jack leaned the parakeet business from his dad in Tucson, Ariz., who once owned lO,000 pairs of breeders. "Once you get into it there's good money to be made."
The Mulvilles say raising exotic birds in confinement isn't difficult. They use a "colony breeding" method, raising parakeets in 6 by 8 ft. pens, with 50 - 53 males and 50 females to a pen. "There's less work with colony breeding than with cage breeding, because you can feed and water 50 birds at once," notes Jack.
The Mulvilles make their own plywood nest boxes, which mount on the wall. For feed and water, they use metal-dishes and rabbit drinkers. They feed the birds millet, rolled oats and sunflower seeds. According to Jack, vitamins and antibiotics are the key to parakeet health. "Parakeets are very susceptible to respiratory diseases induced by featherdust. I feed them poultry drugs scaled down to the parakeets' smaller size."
It takes about 10 min. a day to feed and water the birds, and about one hour a week to clean pens. "While cleaning pens, we generally wear masks to cut down on inhalation of dust," he adds.
The Mulvilles say their basement provides inexpensive, convenient housing for the parakeets. "Parakeets don't like it hot. They won't breed and their eggs will dry out," says Jack. "Our basement stays cool and as long as we clean the pens regularly, there's only a faint smell. However, feather dust can be a problem. We use a sprayer to wash down the dust and keep it out of the rest of the house."
Parakeets live five to eight years and can be taught to talk in about two weeks. "They learn to say five to seven words at a time," says Kathy. "After they learn those words, you can begin teaching them another series of five to seven words. This procedure can be repeated as long as they live, although it's better to teach them to talk while they're young." Males are easier to teach to talk than the females, she adds.
The Mulvilles also own a breeding flock of 11 cockatiels which are colored white and grey. White cockatiels cost $65 each and grey ones $40. They're fed a diet similar to the parakeets but with the addition of sunflower seeds and hard-boiled eggs for protein.
For more information, contact: FARM SHOW Followup, Jack Mulville, Rt. 1, Moravia, Iowa 52571 (ph 515 724-3696).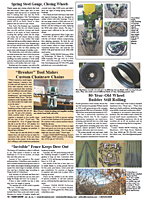 Click here to download page story appeared in.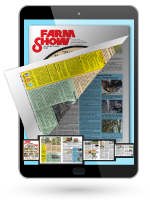 Click here to read entire issue
To read the rest of this story, download this issue below or click
here
to register with your account number.