Down Corn Harvester Saves Every Ear
"We can salvage any corn crop no matter how badly it's lodged, or how many loose ears are on the ground," say the inventors of a huge new first-of-its-kind machine that cleans up fields like a giant vacuum sweeper.
Steve Miller and Gary Resch, St. Cloud, Minn., were besieged with calls from farmers last fall when they ran a short advertisement on a local radio station offering to test-run their machine in badly lodged fields which had already been harvested with conventional combines. They lined up some 20,000 acres in just a few days. Farmers agreed to split salvaged corn 50/50 with the inventors.
Steve Miller told FARM SHOW that farmers are happy to pay the price. "Without the help of our machine it would be difficult to recover anything. We can offer them 50% of their loss, turning a disaster into a manageable situation."
The new machine is not just geared to disasters. Miller and Resch say there's enough ear loss in the average harvested field of standing corn to make operation of the machine profitable on most any Corn-Belt farm.
"Most corn farmers lose 5% or more during harvest. Recovering that grain, and reducing costs due to the virtual elimination of volunteer corn, make this an exciting new profit opportunity for corn farmers," says Miller.
The two inventors field-tested the machine extensively last fall and again this spring and early summer. On one farm, an excellent 200-bu. crop was badly lodged due to extensive root worm damage. Miller and Resch were able to run their machine at widths up to 28 ft. and speeds as high as 6 mph, covering 20 acres per hour in fields which had already been harvested by a combine. Salvage "yields" ran as high as 80 to 85 bu. per acre in the 200 bu. per acre fields.
The king-sized machine, powered by a minimum 145-hp. tractor, is about 80 ft. long. A V-shaped wheel rake, that opens up to a maximum width of 28 ft. and can be varied on the go, mounts in front. It rakes stalks and loose ears into a center windrow that passes under the tractor, to be picked up by the harvester towed behind.
The harvester looks somewhat like a modified rock picker. A drum, about 5 ft. in dia., spins at about 100 rpm's, throwing stalks, ears, and other debris onto an inclined shaker chain mounted behind. The drum is fitted with rows of teeth that rake the surface of the ground. It's important that the pto-powered drum spin at high speeds, according to Miller, so that it won't plug up in the large windrows.
As the cobs, stalks and other debris ride up the shaker chain and much like the chain used to shake dirt off potatoes in a potato digger and the hydraulically powered chain shakes out dirt, leaves and other small debris. At the top of the chain, material is transferred to a bank of husker rollers that separate stalks, husks and other residue from the ears, pulling the debris down through the rollers. The cobs drop into a hopper where they're conveyed into a trailing wagon. Conventional combine spreaders spread the residue back over the field.
"Preventing plug-ups and sorting out rocks that get into the machine are the two biggest obstacles to perfecting the machine," says Miller, adding that corn roots also pose a problem in the spring. "When the ground is hard, stalks break off and roots stay in the ground. But, in the early spring, when the ground is soft, roots pull out of the ground, causing some plugging problems. We can solve the problem by narrowing-up the rake in front to slow down the flow of material through the harvester."
When the wagons are unloaded, the entire load ù corn ears, root clumps, rocks and all other debris is run through a second air-powered separator which separates out the ears of corn.
Miller, who runs a repair and fabricating shop, and Resch, a businessman-farmer, says they plan to have a second machine operating by fall. "We expect our initial market to be in areas of the country hardest hit by weather or insect problems," Miller told FARM SHOW.
For more information, contact: FARM SHOW Followup, Steve Miller & Gary Resch, Rt. 1, Box 211, Clearwater, Minn. 55320 (612 558-6622)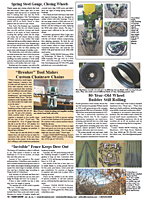 Click here to download page story appeared in.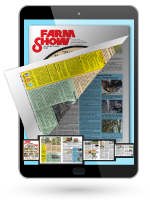 Click here to read entire issue
To read the rest of this story, download this issue below or click
here
to register with your account number.