Harvstore Silos
ATTENTION A. O. SMITH HARVESTORE OWNERS!
Recent studies suggest that significant feed damage and spoiling of feed may occur in Harvestore silo structures, causing lower milk production. If you have spoiled feed you may have a valid claim for damages. For a professional and experienced analysis of your claim at no charge or obligation, please call.
The above advertisement, published last Feb, 14 the Rochester (Minn.) Post-Bulletin by the law firm of Steward, Perry, Mahler and Bird, of Rochester, produced several dozen calls and letters from disgruntled Harvestore owners in southeastern Minnesota, Iowa and Wisconsin, according to Will Mahler.
In Willmar, Minn., the law firm of Schneider, Beccue & Kallestad is representing "more than 40" unhappy Harvestore owners who are taking legal action against A.O. Smith Harvestore and its dealers, charging fraud and liability for faulty performance of a feed storage system that, for more than 40 years, has been regarded as the "Cadillac" of farm equipment.
The big blue tanks, with American flag painted near the top, came on the market in the late 1940's. According to Harvestore officials, approximately 70,000 structures have been sold in the U.S. and Canada to approximately 40,000 owners, more than half of whom are dairy farmers. It appears, based on FARM SHOW's investigation, that within the past year somewhere between 400 to 600 disgruntled owners have initiated legal proceedings against A.O. Smith Harvestore and their dealer representatives. Some cases have been settled out of court and probably less than 50 cases, as best we can determine, have gone to court. But two of those that did were "landmark" decisions in which farmer-owners emerged the big winners in lawsuits charging A.O. Smith Harvestore, dealers and salesmen with "fraud, misrepresentation and deceit."
Last Feb. 1, a jury in Bedford County, Tenn., awarded dairy farmers James and Karen Saylor $1 million in compensatory and punitive damages for problems caused by their three Harvestore silos. Defendants in the case were A.O. Smith Harvestore Products, Hermitage Harvestore Systems and Chuck Dowdy, the salesman who sold Saylors the silos. "The fact that the jury awarded the Saylors $308,995 in punitive damages indicates how strongly they felt that there was evidence of fraud," notes Mahler.
Last Dec. 14, a district court jury in Fayetteville, Ark., awarded the owners of Circle J.Dairy $500,000 in damages. The jury held A. 0. Smith Harvestore Products accountable for 26% of the negligence and its dealership Southern Harvestore for 74%.
Defendants in both cases have filed motions seeking a new trial. Key witnesses for the plaintiffs in both cases were independent consultants who literally ripped the Harvestore concept to shreds. Here, excerpted from court documents, is how they sized it up:
Robert Zoyiopoulos, president and owner of a consulting engineering firm in Evans, Col.: He noted that, in one of the company's handbooks, Harvestore defines oxygen limiting as, "A feed storage system in which the ensiled feeds are protected from the access of oxygen."
" . . . The system cannot possibly act as an oxygen limiting system due to the fact that it's either under pressure or vacuum . . . If you sealed the unloader at the bottom and made the structure top unloading, it would work better . . . I think it's the bottom unloading that makes it a defective system. I'd weld that down shut and use that German invention to vacuum it off the top."
Asked if he would be willing to go inside a working Harvestore, he told the court: "Absolutely not. There is mold growth in there that is just outstanding. I would be concerned with the spores that could get into my lungs."
Larry Scott, co-owner of Triple S. Laboratories, Loveland, Col. A specialist in animal feeds and nutrition, he testified that, in his opinion, a Harvestore silo, properly manufactured, installed and maintained as the company recommends, is heat-damaging to the forage stored inside. "Whether or not it damages the feed enough to lower milk production depends on length of stora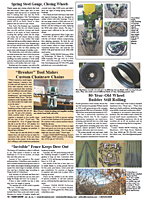 Click here to download page story appeared in.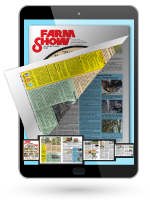 Click here to read entire issue
To read the rest of this story, download this issue below or click
here
to register with your account number.