Round Bale Silage: Works Great With Right Equipment
Reports he read in FARM SHOW prompted L. P. McDanel, owner of the Rocking. L Ranch, St. Cloud, Fla., to experiment with round bale silage.
Last July, he baled alfalfa at about 50% moisture. He then fed the silage bales from January through April of this year.
"Animal acceptance of the silage was excellent. Our cattle ate it with little waste," he told FARM SHOW. "We weighed hay bales and silage bales which were fed side by side out in the pasture. Three days later, we gathered up and weighed what was left. We had a waste loss of 39% on the hay bales, and only 4% on the silage.
"We baled our silage with a belt-type baler and had considerable trouble with green grass wrapping on the rolls. We are presently awaiting delivery of a new Owatonna 'beltless' baler and we think it will handle the green material without problems. lems."
"In order to make good silage it's necessary to remove trapped air after wrapping the bales in plastic. We used the vacuum pump on our liquid manure spreader to draw off trapped air," McDanel told FARM SHOW.
His experiment with round bale silage has attracted a lot of attention, some of it from as far away as Illinois. '`When Elmo Meiners, president of M & W Gear Company, Gibson City, Ill., heard about our experiment, he had his engineers work on a special device for pulling out trapped air. They came up with a bale mover which consists of a hollow spike connected to a pto vacuum pump. This should save a lot of time in removing trapped air. The plastic we used was only 31/a mil. thick and would puncture very easily. This summer, we're experimenting with 8 and 10 mil. plastic which should be thick enough to resist punctures and bird damage. With the new Owatonna baler and the heavier plastic, I think we can do a better job this year.
"The articles in FARM SHOW which tipped us off to this low cost way of putting up silage were real helpful in making the project a success," reports McDanel. Canadian researchers at the Manitoba Dept. of Agriculture, headquartered in Winnipeg, think round bale silage has exciting possibilities. "Works great with the right equipment. Cattle love it and will walk away from regular corn silage to get it," says Orley Friesen, Chief Agricultural Engineer, Technical Service Branch, of the Manitoba Dept. of Agriculture. He and his coworkers have experienced considerable difficulty in trying to put up big bale silage with belt-type round balers. Best results have been obtained with New Holland's beltless chain and slat type round baler, they point out.
Canadian researchers recommend wilting alfalfa to about 50% moisture, and covering the high-moisture bales immediately after piling with 6 mil. or heavier black plastic. A 40 x 40 ft. sheet will cover 36 big round bales piled in three rows end to end with 5 bales in each bottom row, 4 in the next, and 3 on the top. They recommend placing a layer of sand around the bottom of the pile and on top of the bottom layer of plastic to hold it firmly against the ground. They use twine and sand bags over the pile in both directions so that wind oen't work the plastic loose.
Other observers have warned that high moisture big bales are extremely heavy and pose safety hazards in handling them with a tractor loader. Be sure the equipment you use for handling and stacking bales is adequate to handle the extra weight. If you do experiment with round bale silage, FARM SHOW would be interested in knowing how you make out.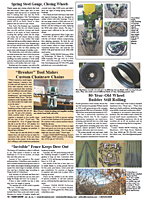 Click here to download page story appeared in.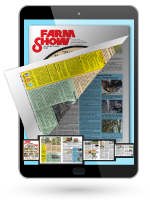 Click here to read entire issue
To read the rest of this story, download this issue below or click
here
to register with your account number.