Half-Price Tractor Parts
"Business is booming," says Dave Steiner, Holly, Mich., whose half-price tractor replacement parts are hot sellers at parts dealers and farm suppliers around the country. He manufactures "better than new" substitutes for company-built parts.
Steiner opened his first tractor salvage yard in 1963 at the age of 20, selling and reconditioning used tractor parts. Over the years he became frustrated at the lack of supply of certain parts.
"Most tractors have at least one weak part that almost always goes bad because of a manufacturing or design defect. It can be almost impossible to locate these parts because they're always worn out on salvaged tractors. So farmers are forced to go to the manufacturers and pay twice as much for a new part," says Steiner.
To fill the need for moderately priced parts, Steiner began to make his own eight years ago. Since then his list of new replacement parts has grown to 58 and he's adding more all the time.
"Many of our parts are better than new because we beef them up with better material or design them to be stronger, correcting the original problem that caused the part to fail," says Steiner. "A good example is our final drive housing for International Cubs, Super A's, 100, 130 and 140 tractors. IH makes the housing out of 35,000-lb. tensile strength steel. We use 65,000-lb. ductile steel so the part is twice as strong at one-half the price."
Most of Steiner's replacement parts are priced at one-half the price charged by original equipment manufacturers. "In some cases, our new parts sell for even less than used parts at salvaged yards."
Here are some examples of Steiner-built parts: A rear axle to fit an Allis Chalmers "G" sells for $250. Allis Chalmers sells the same part for $500. A left hand drive housing to fit Farmall Super "A", 100, 130 or 140 tractors, sells for $325. IH sells the same part for $885 (most salvage yards sell the part for $450, according to Steiner). The clutch shaft and transmission spline shaft for a Farmall Cub sells for $125 while IH gets $240. Steiner's drawbar for International 806 tractors sells for $85 compared to IH's price of $159. His wheels for Allis Chalmers WC, WD, and WD-45 tractors sell for $40 while the company charges $80. Steiner's wheels are actually purchased from the same manufacturer that makes AC's wheels, one of a couple products that he "farms out" to other manufacturers.
Other examples of Steiner parts include: Countershaft idler gears to fit Deere models "B" and "50" tractors. Deere manifolds to fit models D,M,40,420 and 430 tractors. Upper bolster steering shafts to fit International "H", Super "H", and 300 tractors, and exhaust manifolds to fit IH 560, 706 and 806 tractors. Front wheels to fit Massey Harris 33 and 44 tractors. Camshafts to fit Massey Ferguson continental gas engines. Exhaust manifolds for Ford models 9N, 2N and 8N. A 5-speed shifter housing (pto support) that fits all Fords 1955 to 1959.
"Our hottest selling parts are Massey 35 crankshafts, "B" Allis Chalmers manifolds, 8N manifolds, lower drawbar supports for the IH 806, and heads for Farmall Cubs," says Steiner, noting that some original equipment manufacturers' prices have dropped due to competition from parts manufacturers like himself. "International took $100 off the price of an 806 manifold. Deere has reduced the price of sway blocks that fit most of their 20 and 40 series tractors and Ford has dropped the price of their manifolds.
"Some of the tractor parts we now manufacture aren't available anymore from original equipment manufacturers. We're constantly expanding as we discover other rare parts," says Steiner, noting that he's already selling parts through more than 250 salvage yards nationwide. "Some machinery dealers have even started to carry my parts. Ford dealers can buy 8N and 9N manifolds more cheaply from me than from their own company and, since the IH-Case merger, some IH dealers have started to buy my parts."
Steiner also manufactures exhaust manifolds to fit all Ford Model "A" and "T" cars as well as tapered front leaf springs for Model "T's".
For a c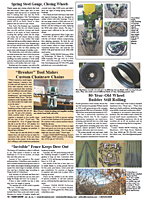 Click here to download page story appeared in.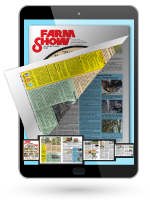 Click here to read entire issue
To read the rest of this story, download this issue below or click
here
to register with your account number.