This On-Farm Factory Builds Low-Cost Tractors
When they need a new tractor on the Rauenhorst farm near Olivia, Minn., the tractor dealership in town doesn't get more business. Larry Rauenhorst simply builds whatever's needed.
Rauenhorst recently put the finishing touches on a 330-hp., 4-WD that, he feels matches up favorably against most any large 4-WD on the market. And yet, at a total cost of just $6,000 to build, it cost less than 10% of what a comparably equipped new model would have cost. He has also built a 265 hp. 2-WD tractor that was finished in 1979 and has since logged 500 to 600 hours every year without a problem. The two machines provide the main power on the big southern Minnesota farm and yet the cost of the two together would hardly buy a new "orchard" tractor.
To build both machines, Rauenhorst started with cheaply purchased industrial wheeled dozers. He then proceeded to strip the machines down to their bare basics and added accessory equipment, including a 3-pt. hitch, needed for farm work.
The large 4-WD tractor started as a 1965 model Michigan wheeled dozer. He found it at a Caterpillar dealership and was able to buy it for just $2,000 because the Caterpillar dealer didn't think much of Michigan equipment. "The engine alone was worth $4,000," notes Rauenhorst.
The dozer weighed 75,000 lbs. when Rauenhorst got it back to the farm and the first thing he did was to cut off all the heavy plate steel and other dozer components which added up to about 40,000 lbs. He then reversed the direction of travel of the transmission ù he says he had studied the machine before buying it to learn that this could easily be done ù and outfitted it with the cab from an International Hydro 100 tractor. He had to install a 3-pt. hitch, which he made from some of the heavy plate steel cut from the dozer, and install hydraulics.
For the hydraulics, he took the 24 gal. per minute power steering pump that had been on the dozer and used that for the tractor hydraulics, installing a 15 gal. per minute pump for the new tractor, since it now weighed less than half of what it had before and therefore needed less power.
Rauenhorst also installed individual air brakes, a complete instrument control panel, air conditioning, a specially-built hood for the engine compartment, a 230-gal. fuel tank, and many other components, including a closed circuit video camera to watch big equipment pulled at the rear.
"You have to be methodical and go at it step by step, just like building a house. If you plan well and just add the equipment you need, it's really not too difficult," Rauenhorst told FARM SHOW, noting that modifying some pieces of equipment, like the wheels, can be quite difficult. "But, if you take a look at how much you're saving, you can afford to take time to do the work."
He worked on the big tractor through two winters and says it now works great. "It was fun to do and the best thing is that it works," he told FARM SHOW.
His 2-WD tractor was built from a 265-hp., 2-WD Caterpillar wheeled dozer. He followed many of the same procedures as with the 4-WD, simply stripping off everything not needed and adding on tractor components. "It's the best way I know to build your own farm tractor," says Rauenhorst, noting that he had a lot of help from family members and friends on both projects.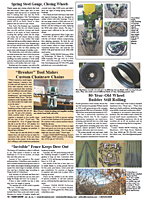 Click here to download page story appeared in.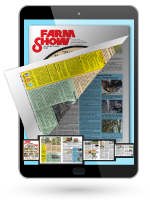 Click here to read entire issue
To read the rest of this story, download this issue below or click
here
to register with your account number.