Kansas Farm Sports New Foam Building
It's a foam farm building!
This best describes the sporty 30 by 80 ft. structure erected on Gumbo Hill farm, northwest of Manhattan, Kan., by Erma Sebring and her son-in-law Henry Whitney II.
"Hindsight is always better than foresight. If we constructed three of these, we'd have the techniques and materials down pat," Whitney said.
A contractor actually suggested the idea of a foam building to the family and started it without any experience on a project like this. Pouring a normal concrete floor and foundation was the first phase with two loops of pipe included underneath so hot water heat could be added later.
Pipe fittings, for 6 1/2 ft. pieces of 2 in. PVC (plastic sewer) pipe, were set two foot apart around the foundation for the upright framework of the building.
Forty-five degree elbows were placed at the top of each upright for additional white plastic pipe that was run over the top of the frame to give it a quonset appearance.
This was the backbone of the foam building. "It was supposed to be self-supporting," Whitney said, "but a big wind came and blew it all down."
All of the plastic pipe first had to be placed back in original position. "It was out of plumb, so we built a wooden framework to hold it square until we could get the foam put on," Whitney said.
The skeleton was then covered with nylon netting and black plastic, like that for covering haystacks.
Urethane foam, the kind used as insulation, but mixed in a different ratio, was sprayed from the inside onto the netting and black plastic.
After the entire frame was covered, the crew went back and foamed in corners and places where the lathes had been.
"They cut off some of the bubbles and filled in other places to make a smoother surface," Whitney said.
Two protective coatings of flexible material, similar to latex paint, were applied to seal the outside of the building. "Exposure to the elements would deteriorate the foam, so it was important to coat the building as soon as possible," Whitney noted.
A concrete mixture, similar to stucco, was blown on the inside walls and a fiberglass particle material, like used in masonry, was spread on the inside ceiling.
People watching the construction thought the structure would be light and susceptible to wind. However, Whitney insists, "The wind can't get ahold of it." Reinforcing rods were used to anchor the walls to the floor, but that wasn't necessary because the frame and foam are both 'adhered to the foundation, he said.
"It's more fire resistant than my own home," Whitney contends. "I could take a blow torch to it and it wouldn't burn."
He estimates the building could be constructed for "$10 a square foot" including the cost of all materials plus labor for the flooring and foaming work. This estimate does not include the cost for electrical work, which Whitney did personally, nor does it include the labor for framing.
"The price is comparable to putting up another type of building without insulation," he says.
"Whether one would want to build a structure like this depends on what it is to be used for. The building works good for us and if you want something to protect from the elements, it would be good. You can't just nail into it," he adds.
If another structure like this were to be built, Whitney would do several things different. Smaller diameter plastic pipe would be used for the framework, but the wooden supports would still be necessary.
Whitney has pulled together a booklet which lists the necessary materials, and gives construction tips, for building your own foam building. The booklet sells for $2.
For more details, contact: Harry Whitney II, Rt. 4, Box 344, Manhattan, Kan. 66502 (ph 913 539-5778).
(Excerpted with permission from Grass & Grain, Manhattan, Kan.)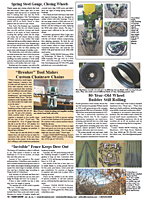 Click here to download page story appeared in.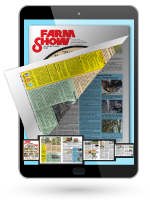 Click here to read entire issue
To read the rest of this story, download this issue below or click
here
to register with your account number.