North Dakota Farmer Raises Wild Bobcats
Larry Schultz, Arnegard, N. Dak., has spent a lot of time in the outdoors in the Badlands area of the Dakotas where bobcats are common. Now he's using his knowledge of bob-cats to make a business out of them, along with Canadian lynx and Norwegian blue foxes.
He has about 40 adult bobcats and lynx and is just getting started with the foxes. "Breeding bobcats in captivity is still relatively new so it's been mostly a trial-anderror learning process," says Schultz, who began raising bobcats for their fur 13 years ago but has found that low fur prices and a growing demand for pets make it more profitable to sell kitens. In the last five years he has sold over 120 kittens as pets, working through a Minnesota broker who handles pet sales.
Bobcats come in colors that range from pale grey to blue. However, most are brown or buckskin colored.
Timing is important to turn a bobcat into become a good pet. "You have to take the kittens away from their mothers at 18 days of age and bottle-feed them for the next five to six weeks until they can drink on their own," says Schultz. "You wouldn't think a couple days would make much difference, but if you wait until they're over 20 days, it's too late. Kittens open their eyes at 14 days. At 18 days, their eyes are still milky colored and they can't see anything. At 20 days they can see, and it's too late for them to become pets.
"If they're raised right they're no different than a housecat. They're very easy to litterbox train."
He got into the bobcat business after spending several years trapping beavers. "I hated to see the beaver meat go to waste. The first four or five years I raised bobcats I fed them nothing but beaver meat and had no success at reproduction. I didn't know what the problem was until a nutritionist told me that beavers eat willow trees, which contain aspirin that neutralizes the bobcats' re-productive system. Now I also feed salt-water fish, chicken or turkey, beef, and vitamins and minerals. I made the mistake last year of feeding fresh-water fish. Within two days I lost 60 kittens when the mothers aborted. The reason is that some fresh-water fish have an enzyme byproduct that causes a vitamin B1 deficiency."
Schultz purchased his first six bobcats from a fur farm in Wyoming. After that, he and a friend Jim Anderson trapped more bobcats in the Badlands. His activities are monitored by the North Dakota State Board of Animal Health which has the right to inspect his operation at any time.
Females produce a litter every year and about half the females whose kittens are re-moved will breed again and produce a second litter that year. Mothers with kittens won't rebreed if they're still nursing.
Schultz designed his own cages and linked them together so that he can move animals from cage to cage without having to tranquilize them. The cages are set up off the ground so they can be easily cleaned without disturbing the animals. "We use a raccoon box trap to catch the animals once a year. We try not to tranquilize them any more than we have to because the tranquilizer can damage their reproductive system and their brain," says Schultz.
When the adult cats are too old to repro-duce, Schultz sells them for taxidermy or fur. Cats in the wild reproduce for 10 to 12 years, but ones in captivity can reproduce for as long as 20 years, he says.
Prices range from $300 to $1,500. Schultz sold one bobcat to the Seattle Seahawks professional football team for $1,400.
Schultz recently put up a 30 by 270-ft. building that will hold 500 Norwegian blue foxes. "There are very few breeders in the U.S. or Canada. At one time there were a lot but poor prices forced most of them out of business."
Contact: FARM SHOW Followup, Larry Schultz, Box 703, Arnegard, N. Dak. 58835 (ph 701 586-3583).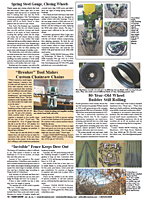 Click here to download page story appeared in.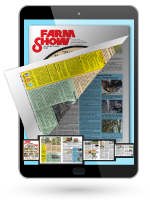 Click here to read entire issue
To read the rest of this story, download this issue below or click
here
to register with your account number.