First Manure Pit Under Tie Stall Barn
A new-style dairy barn in Wisconsin, the first of its kind in that state and one of only a handful throughout North America, is causing a stir among dairy organizations, state regulatory agencies, and farmers who've had a look at it.
The controversy centers around one feature of the new barn: The manure pit. It's a tie stall barn with a manure pit running the full length of the barn, which has no milking parlor. Until recently, no such barn had ever been approved for grade A milk production.
When Jerry Johnson, of Amery, Wis., and his son Dan, decided to go ahead with their new barn design, they thought obtaining a state "okay" would be no problem. Wieser Concrete Products, their building contractor from Maiden Rock, Wis., had just finished several of the new barns in Minnesota with the state's approval. But, when the Johnson barn was finished, Wisconsin's Department of Agriculture informed them that it might not even qualify for grade B.
"Officials were concerned that the milk would absorb manure odors," says Bill Setterlund, ag products manager at Wieser. "We've argued there can be no manure odors absorbed by the milk because it flows directly from the cow into a milker, through a pipeline and into the bulk tank. Secondly, officials were worried about ventilation. The barn has open gutters to the pit but we've got more than adequate ventilation to carry fumes outside the building. Thirdly, the Interstate Milk Shipper's (IMS) Association has decided that this type of dairy barn should not be approved for grade A without further study, and that organization's decisions carry a lot of weight."
Latest development is formation of a national committee, made up of industry and academic experts, to look into the situation and to make recommendations to IMS, and to states considering a rules change.
The Johnsons' barn was placed on experimental status by the State of Wisconsin. They will be allowed to market their milk as grade A "for the next year or two", or until a decision is made. If denied grade A status, they will have to modify their bar-n.
"Dad was pretty smart in this whole thing," says young Dan. "He signed an agreement that would require the contractor to put in solid gutters and a barn cleaner if the manure pit and grated gutter concept didn't meet state grade A codes. The contractor would have to put in gutters at his expense."
Besides their manure pit, the 40cow Johnson barn is unusual in that, except for the wood roof and rafters, the entire barn is made of 6-in. thick precast concrete panels that Weeser specializes in. Inside, rubber mats are imbedded in the concrete flooring and slotted gutters behind the cows lead directly to the 41 by 89 ft. ,10-ft. deep manure pit, which runs under the entire barn (except for the milkroom with bulk tank).
Setterlund cites the following advantages of an inside manure pit, versus outside storage or daily hauling: "You don't have either the work or the waste of daily hauling. Manure is saved until you can best use it. Also, there's no investment in expensive mechanical equipment or in equipment maintenance, and no daily labor or electrical power is needed to operate it. You don't have to take up valuable farm land with an outside pit.
"And, when you have a conventional barn with an outside manure storage system, you have to pay the cost of a floor and foundation in that barn. With this system, pit walls serve as the foundation and the precast top of the pit serves as the barn floor."
Fans along the side of the pit carry out odors and gases. Air enters the barn from louvers on the south side, cutting down on winter drafts and reducing condensation.
For more information on the newstyle barn, contact: FARM SHOW Followup, Wieser Concrete Products, Rt. 2, Maiden Rock, Wis. 54750 (ph 715 647-2311).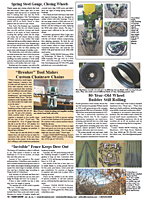 Click here to download page story appeared in.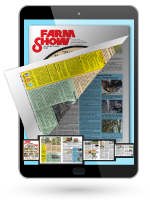 Click here to read entire issue
To read the rest of this story, download this issue below or click
here
to register with your account number.