Look What They're Doing With LP-Gas
Just about every supplier who has anything to do with LP-gas Carburetion is being bombarded with farmer demand for conversion kits. Some farmers, fed up with long waiting lists for factory-made conversion kits, have rigged up their own.
"I switched to LP-gas because of its availability," says Freeman Smith, Centerville, Iowa, who reasons that "demand for LP is less than gasoline and should remain that way. I want to be able to jump in my pickup and go when I have to get somewhere in a hurry. Looks to me like LP-gas will be more readily available over the long pull than gasoline."
Smith put a single-fuel LP carburetor on his gas-powered 3/4 ton pickup, adapting directly to the head by mounting it on a drilled aluminum plate. Gas enters the carburetor after passing through the water-heated regulator that vaporizes the liquid. The LP-gas is carried in a 150 gal. tank mounted in the truck bed.
Smith says he gets about the same mileage as before the conversion. He notes that experiments with adding water vapor to injected gas "look promising" as a way to increase economy. He plans to wrap metal tubing around the exhaust manifold and feed the vapor into the top of the carburetor, just below the air cleaner.
Lewis Niday, in nearby Humeston, Iowa, also wanted to convert his pickup and cars but discovered that LP equipment manufacturers had back orders for several months. So, he set out to do it his own way, using Minneapolis Moline tractor LP carburetors purchased from a White Farm Equipment supplier. Regulators and tanks were salvaged from other sources. He mounted the Minneapolis Moline carburetor on the top of his vehicle's gas carburetor, then installed electric valves in the fuel lines. He can switch from LP to gas, or back again, on the highway without stopping.
"Cost just a fraction of the $800 to $900 gas companies are charging to convert," says Niday. "We fill up from our LP storage tanks at home, saving with bulk purchases.
''LP equipment suppliers are more likely to have individual pieces of equipment than a whole kit at this point," he says. "If you look for a carburetor here and a tank there, you usually can find the necessary pieces and can put them together yourself, rather than looking for a whole conversion kit. They're hard to find."
Not surprisingly, the National LP gas association, located in Oak Brook, Ill., discourages makeshift LP conversions.
"LP can be dangerous if not handled correctly, particularly the fumes. Conversions should be done only by experienced mechanics," warns Jack Hartzell, director of communications for the Association.
Hartzell feels that some people are probably on two or more waiting lists and, consequently, the reported backlog of 4 to 6 months on conversion kits may be exaggerated.
Incieasing numbers of irrigators are also switching to LP gas. W.C. Speer, an LP-.gas dealer in Paragould. Ark., sold two trailer loads of Chrysler LP fueled engines this year, primarily to rice growers trying to avoid the high price of diesel fuel.
"On a large well, I can install a 318 cc W-8 Chrysler that runs on LP-gas for about $2,600," says Speer. "An equivalent diesel costs $8,000 and, with about a 50 cent price spread per gallon, there's no payback on the diesel. LP is the only way to go."
One of the most popular fuel-savers for diesel tractors is the Red Rooster LP-injection system, sold by Acme Carburetion, Mankato, Minn., and first featured in FARM SHOW 21/z years ago.
The Rooster injects small amounts of LP into the air normally compressed in the combustion chamber with diesel fuel. It uses the air to burn all diesel fuel that would otherwise go unburned. Users report 20 to 25% more power, and 15 to 20% less fuel consumption because of increased efficiency, and longer engine life.
"It works on either naturally aspirated or turbocharged diesels," says Don Fettes, Acme Carburetion president. You can install it yourself and no changes are needed if the engine is in good condition."
Cost of the Red Rooster is right at $169.50. Most farmers mount a 25 to 30 gal. LP-gas tank on the tractor, usually p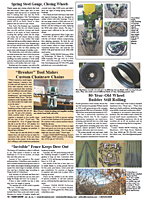 Click here to download page story appeared in.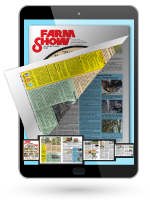 Click here to read entire issue
To read the rest of this story, download this issue below or click
here
to register with your account number.