Joe Newman's Amazing New Energy Discovery
"I thought he was a con man but I came back a believer," says Milton Everett, an energy specialist with the Mississippi Department of Energy, Jackson, Miss., about an amazing new energy invention, developed by Joe Newman, a rural Lucedale, Miss., inventor, that reportedly produces more energy than it consumes.
Newman's invention has been making waves across the U.S. since the airing of a report by CBS News on their evening telecast a few weeks ago. What makes his invention so exciting, and different from other "discoveries" in the past, is the number of scientists and energy experts from around the country who have closely examined Newman's invention and are now hailing him as a genius.
U.S. Patent Office officials have refused to grant Newman a patent on his device on the grounds that it's a perpetual motion machine. He, in turn, has sued the patent office. When his case goes to federal court early this summer, he'll have the support in court of some of the top energy experts in the country. More than 100 have already signed affidavits that the invention performs as Newman says.
Dr. Roger Hastings, a solid state physicist with the Sperry Univac Corp., in Minneapolis, Minn., has visited Newman seven times, running extensive tests on the invention. His measurements say the device puts energy out at a rate of more than ten times the rate that it goes in. Hastings has looked closely at the inside of the invention and says he could find no way of secretly generating energy.
In one experiment, Hastings hooked up eight batteries to a small DC motor that powered a water pump. It pumped water for less than an hour before the small batteries ran down. He then hooked the same batteries and pump up to the smallest of Newman's devices. It started pumping water in the afternoon and was still pumping water at midnight when Hastings shut it off. When the batteries were unhooked from the device, they had been fully recharged. "That means the efficiency of his invention is far beyond 100%," says Hastings.
Newman, who is trained as an economist and accountant, has made his living since the early 1960's off various inventions and consulting work. He trained himself in physics and says he first formed his new theories of how matter and energy relate 15 years ago. He built the first working model of his invention over 10 years ago.
Newman decided to "go public" when the patent office denied his patent. "We're trying to rally support for our case against the patent office. The mechanisms of the invention themselves are so simple that, once we get a patent, we could be on the market with it in a year and a half," he told FARM SHOW.
Gerald Miller, a Fountain Valley, Calif., engineering consultant and physicist, ran tests on one of Newman's smallest models and had a good look inside. Here's how he describes a demonstration he saw:
"Except for a cylindrical magnet that rotates when the box is hooked up, the device is enclosed in a plywood box. A bank of batteries, hooked up in series, powers it and a lead comes back out to the batteries from the output side of the machine. We attached both an oscilloscope and a multi-meter ù to gauge both voltage and amperage ù and measured electrical current flowing both ways.
"Newman starts the machine by hooking up the electrical leads. The magnet accelerates to about 150 rpm's. A 4 1/2-in. pulley, with a belt and some lead weights attached to it, acts like a dynamometer so that torque is produced. The oscilloscope showed, and the meters confirmed, that Newman's device was producing far more energy than it consumed. I looked inside and saw that there were no structures in it that could be considered an energy source. All the components were ordinary electrical components you could get anywhere. Anyone could build one of these."
Miller's tests were run on the smallest of Newman's three prototypes, an 18-in. square cube that weighs approximately 200 lbs. The next largest prototype weighs 800 lbs. and the largest, enclosed in a box about 5 ft. tall, weighs 5,000 lbs.
"I went to Newman's place to help a friend p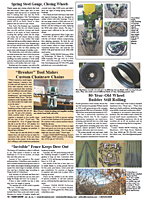 Click here to download page story appeared in.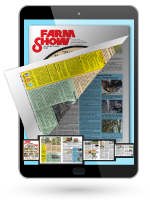 Click here to read entire issue
To read the rest of this story, download this issue below or click
here
to register with your account number.