Baler Mounts On Old Combine
"It's got a 10-ft. wide pickup on front so it picks up every last bit of hay, even when you go around corners, unlike any pull-type baler I've ever used," says Joe Laczko about a self-propelled round baler he built last year out of an old combine.
What's amazing about the machine is that Laczko built the round baler itself - which mounts on the back of the stripped-down combine frame - entirely from scratch.
A neighbor, Joe Nagy, helped test the home-built baler against a Massey 1660 pull-type baler. "It made a more dense, evenly distributed bale than the Massey in a side-by-side field test," says Nagy, who used the machine to make 60 1,200 to 1,400-lb. bales last season. "Not having to hook it up to a tractor saves a lot of time. And it outperforms any baler I've ever used," he says.
Laczko, of St. Brieux, Sask., grows 300 acres of alfalfa hay. He cuts it with a 20-ft. International swather and bales it as soon as it's dry enough.
"I wanted a self-propelled baler mainly for the convenience and I wanted a variable speed transmission, which allows me to slow down in heavy hay and speed up in lighter hay. But I couldn't justify spending $25,000 or more for a commercial model," Laczko explains. "I also wanted a baler that would pick up 100% of my hay so I mounted a 10-ft. wide Melroe pickup on front. Most balers have only a 5-ft. pickup which can leave a lot of hay in the field, especially when you turn.
"I baled about 400 bales with it last season and they turned out fine"
The project began with a hunt for a Massey 510 diesel combine. He wanted a 510 because it has just 1 ft. of ground clearance so it rides lower to the ground than almost any other combine, Laczko explains. That makes it naturally well suited to picking up hay.
He bought a mid 1970's 510 for $3,000 and stripped it down to the frame from the cab back.
He reinforced the frame lengthwise with 2 by 6-in. steel tubing and extended the steering axle 1 ft. on each side so he could mount the 5-ft. wide, 6-ft. high baler on back without hampering steering ability.
Laczko built the bale chamber out of 3/8-in. thick steel plate and welded it to the combine frame.
"It seems like it would be complicated to build a baler, but it wasn't that hard," he says. "In part, I copied a Canadian-made Shop Core baler that doesn't use a belt tightening system. The five belts, which I salvaged off a grain elevator, tighten as the bale chamber fills up. The back door belts have to turn to start the bale."
A series of 12 5-ft. long, 5-in. dia. rollers, fitted with 1/2-in. dia. cleaning rods for wet hay, mount on 1 1/2-in. dia. stub shaft axles mounted in bearings along the sides of the baler.
Laczko had to reduce the speed of the baler to three-quarters the rpm's of the combine engine. And he had to reverse the direction of the driveshaft off the engine.
"The baler runs the opposite way the engine runs," Laczko explains. "I drive it with a roller chain off the back of the separator clutch shaft sprocket. By driving it with the separator clutch shaft, I can stop it any time with the clutch."
Hay is fed to the baler by the combine's original feeder chains.
If the baler plugs up, an alarm goes off in the cab. Laczko used the same alarm that originally warned of problems with the straw walkers.
"The back door of the baler is fitted with two 2 1/2-in. by 20-in. hydraulic bypass cylinders off a Vermeer baler on each side of the bale ejector door, instead of the spring-loaded catch found on many balers," says Laczko. "You set the bypass for whatever tension you want and the cylinders push the door open when the bale's done. At that point, a light goes on in the cab so the driver knows the bale's ready to dump."
A manual lever in the cab is used to control the twine wrapping arms. Twine is cut by hand. Laczko is still perfecting an automatic cutter.
"I'm also working on a new design for a pull-type baler that'll outperform any pull-type baler on the market, and will be custom-built to fit on my transport truck," says Laczko.
Contact: FARM SHOW Followup, Joe Laczko, Bo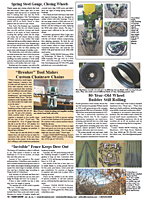 Click here to download page story appeared in.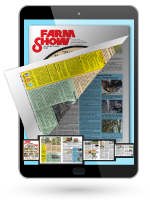 Click here to read entire issue
To read the rest of this story, download this issue below or click
here
to register with your account number.