Slick New Way To Clean Hog Barns
Hottest new manure-handling idea for new or remodeled hog barns is a cantilevered floor design that provides high speed hand cleaning for very low cost. Developed in Canada, the amazingly simple system is catching on fast.
Instead of costly pits, mechanical scrapers or flush systems, it relies on a speedy method of hand cleaning to do the job. You can hand clean farrowing crates and pens as fast as you can walk down the aisle.
"An eight year old girl can clean out both sides of the aisle in less than a minute," says Rodney Koser, Elbow Lake, Minn., hog producer who was one of the first in the United States to use it. He's incorporated the basic system into the new pitless
"Automatic Farrowing" house he's now producing commercially, and which was featured in FARM SHOW earlier this year (Vol. 4, No. 2).
Key to the popular new way to handle manure in hog barns is the cantileveld floor design (see drawing). The rear end of each sow gestation or farrowing stall, or the slatted end of a pig nursery pen, is suspended over a gutter (about 4 in. deep and 2 ft. wide) running at right angles to the stalls or pens. This gutter is quickly scraped down by hand with an especially designed push hoe.
The cantilevered floor idea was originally developed by Canadian Mennonites. It readily adapts to gestation stalls, farrowing crates and pig nurseries. With modifications, it could possibly also be adapted to growing-finishing facilities, J. Garnett Norrish, University of Guelph swine specialist in Ontario, told FARM SHOW.
Cheapest and most popular way to clean the gutter under the cantilevered floor is to hand scrape it, although it could be cleaned with a mechanical scraper, or a flush system. Most Canadian hog producers using the system have opted for hand cleaning because of the cost saving, and the fact that a child or adult can clean behind many sows or pigs in only a matter of minutes, according to Norrish.
"I personally cleaned out a building housing 250 weaner pigs in less than 30 seconds, pushing the offset
hoe along the gutter. A barn with 25 to 30 sows would take about the same amount of time," he points out.
Another key feature of the cantilevered floor - gutter system is that it readily adapts to new or existing facilities. What's more, it's easy to install yourself. A steel bar imbedded in concrete holds up the slatted, car[ tilevered end of the crate (or nursery pen) floor to suspend it over the gutter.
If you'd like a set of "how to" blueprints for constructing the new way to clean hog barns, contact: FARM SHOW Followup, J. Garrett Norrish, Animal Science Department, University of Guelph, Ontario, Canada N1G 2W1(ph 519 824-4120). Ask for Canada Plan No. 3801.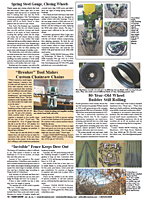 Click here to download page story appeared in.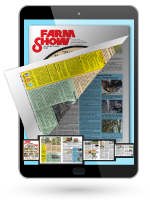 Click here to read entire issue
To read the rest of this story, download this issue below or click
here
to register with your account number.