Alligator Straightens Bent Irrigation Pipe
Kwinn Enterprises, Quinter, Kan., has developed an "alligator" with jaws powerful enough to straighten damaged irrigation pipe.
The alligator won't eat your livestock or attack your children. It's made of steel and plastic, and powered by a small hydraulic hand pump. Called the Gator Saver, it's equipped with powerful alligator-like jaws which put 10,000 lbs. of pressure to the task of making damaged irrigation pipe look like new.
"In one hour, it can reshape $200 worth of irrigation pipe," says the manufacturer. The device can be used to straighten damaged 6, 7, 8, 9, 10 and 12 in. irrigation pipe by using 2 different power units and interchangeable jaws or hulls. It's completely portable and can be easily carried by one person for use anywhere, the manufacturer points out.
"Its alligator shape is what makes the Gator Saver so effective," explains Scott Ikenberry, shop foreman at Kwinn, and son of the man who developed the invention. "Even if the pipe is badly damaged, the unit's narrow, pointed nose will work its way in to iron out the dents."
The pipe straightener is about 50 in. long and comes with 20 ft. insertion handles, long enough to reach past the center of 30 ft. pipe sections. Additional 4 ft. handle extensions are available for longer pipe sections.
The hand-powered hydraulic pump is attached to the power unit with 25 ft. of high pressure hydraulic hose. Changing from one pipe size to another is simply a matter of removing a couple bolts and installing the desired hull size on the power unit. Ikenberry says it takes about 15 min. to make the switch.
He notes that the main advantage of having straight, smooth pipe is that dents cause resistance to the flow of water, and resistance cuts pressure. "Only one or two dents in every section of pipe over several miles of an irrigation system can cause a substantial loss of pressure." Ikenberry also notes that leaky gates can be fixed by using the device to reshape the gate cutout area.
The reshaping hulls are made from PVC plastic, the same material used for water mains, and are guaranteed against crackage or breakage.
Ikenberry says some owners have successfully used the Gator Saver to straighten grain auger pipe, a practice he doesn't recommend unless the pipe is of lighter gauge aluminum like irrigation pipe.
The 6 in. power unit, complete with hull, sells for $490. The 7 and 8 in. hulls to fit it sell for $90 and $120. The 8 in. power unit without any hull sells for $410; hulls to fit it range from the 8 in., at $120, to the 12 in. at $165. Kwinn is developing a new 4 in. pipe straightener that may be a while in coming: "When you're working with pipe that small in diameter, there are a lot of design changes and we're still ironing them out," Ikenberry told FARM SHOW.
For more details, contact: FARM SHOW Followup, Kwinn Enterprises, Inc., (Company is no longer in business)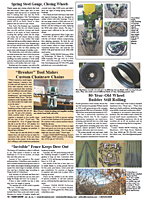 Click here to download page story appeared in.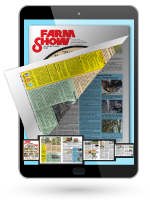 Click here to read entire issue
To read the rest of this story, download this issue below or click
here
to register with your account number.