New Nose Job For Farm Tractors
Indiana farmer Jerry Bulmahn, of Decatur, bought a spanking new IHCase 2294 tractor last fall and promptly ran it into his farm shop to give it the darndest "nose job" you ever saw.
In less than four weeks, he had the new tractor's nose stretched out 10 feet and equipped with his amazing new invention ù a bolt-on tool carrier that lets him run rear-mounted planting and cultivating equipment up front rather than behind for greater visibility and maneuverability.
Although designed primarily for ridge-tilling corn and soybeans, Bulmahn feels his "nose job" conversion kit has exciting possibilities for virtually every farmer interested in pushing rather than pulling rear-mount equipment.
Bulmahn's converted tractor resembles a road grader. He moved the front wheels and axle forward 10 ft. In between the elongated front wheels and radiator is a sturdy 12 by 12-in. steel toolbar (3/8 in. thick sidewalls) that serves as an "up front" tool carrier. Planting and cultivating equipment is cradled underneath the carrier.
Bulmahn has applied for a patent on his invention which allows the tractor to be converted back to conventional use in only 2 or 3 hours. "Just remove 10 bolts, slide the front axle and wheels back to their original position, and the tractor is free for other work," he points out.
Based on field tests on his own farm this spring, he's convinced that his converted tractor will run circles around conventional tractors for ridge-tilling. "Improved operator visibility and being able to stay on top ridges with 12-row equipment ù even on sloping ground ù are the big pluses," Bulmahn told FARM SHOW. He figures he cut soil compaction in half by being able to move from 6 row to 12 row (30 in. rows) equipment on his 900 acres of ridge-tilled corn and soybeans.
Here's a closer look at key design features of the conversion kit Bulmahn hopes to have in production and on the market commercially later this year to fit new or recent model 2-WD drive tractors in the 80 to 180 hp range:
Tool carrier ù The 12 by 12-in. front-mounted tool carrier is articulated in front of the radiator. Articulation of the vertical pivoting hinge is controlled by a hydraulic cylinder operated manually from the driver's seat to assist in turning, and to help ride the ridges on slopes. To beef up the tractor frame, Bulmahn bolted on 4 by 6-in. steel support beams, one on each side of the tractor, which extend from the articulated hinge to the rear axles.
Weight distribution ù With a 12 row Glencoe cultivator cradled under the toolbar, Bulmahn estimates there's about 8,310 lbs. on the elongated front axle, and 12,370 lbs. on the rear axle. "With the tractor in its conventional configuration, and the 12-row 3-pt. cultivator behind, I'd have about 20,000 lbs. on the rear and about 1,000 lbs. on the front, making it impossible to keep the tractor on ridges, especially on sloping ground," he points out. "I think, with the conversion, I could ridge-till with 16-row equipment in 30-in. rows."
Implement hookup ù Bulmahn loads his 12-row cultivator (or planter) on a Donahue implement trailer which he lowers to the ground. Then, using ramps, he drives the elongated tractor's front wheels over the cultivator. He then backs up to hook the cultivator to a built-from-scratch 3-pt. quick hitch at the front-end of the long-nose tool carrier. A hydraulic cylinder on the 3-pt. hitch's top link allows him to raise or lower depth on the go.
Steering ù "A key advantage in having 12-row equipment up front, rather than behind, is that the front tractor wheels directly control the implement," Bulmahn points out. The only adjustment he had to make for steering was to lengthen the hydraulic power steering hoses, which are threaded inside the frame of the long-nose tool carrier. "One reason we bought the 2294 IH-Case was because of its 3-speed power shift which comes in handy at the ends. You can slip it into low gear to make the turn, get lined up and then move back into second or third gear. We didn't buy the optional hydraulic front-wheel assist but it could easily be adapted t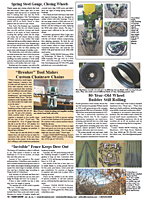 Click here to download page story appeared in.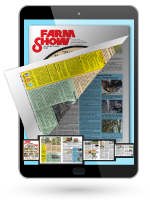 Click here to read entire issue
To read the rest of this story, download this issue below or click
here
to register with your account number.