Portable Corn Drier Burns Shelled Corn
Latest new way to beat low corn prices and high energy costs is a new portable grain drier that burns shelled corn, ground corn cobs, corn fines, sawdust or cubed materials.
Bruce Schmidt, president of the Holstein Manufacturing, Holstein, Iowa, says the company's new Maxi-Dry corn burner has a 26 bu. capacity hopper, which is more than enough for a 24 hr. period. The hopper is designed for loading with a tractor or skid steer loader.
Shelled corn, or other material being used for fuel, is augered from the fuel hopper into the burning chamber by a 4 in. auger. This auger is thermostatically controlled so it shuts off when the temperature gets too hot in the burner, and starts up when more heat is needed.
The firebox of the burner stays at about 1,100 degrees with the temperature at the flue at about 125?. The burner is refractory lined (a heat resistant ceramic material) for insulation. A fan forces the warm air out of the burner through heat exchanger tubes and into the bin.
Schmidt says the shelled corn burner drier can be adapted to fit most any grain drying system by making slight modifications on the duct work.
You start the fire in the burner manually. If desired, logs up to 24 in. can be placed in the burner as another energy source.
"The only ashes from burning shelled corn will be calcium, phosphorus, and potassium," Schmidt notes. "This residue should be removed whenever you shut the drier down but you could probably go as long as a week without having to remove any residue."
The fans and auger in the drier are powered by electric motors.
Here, according to Schmidt, is how the "dollars and cents" of burning shelled corn to dry grain pencils out:
"If you wanted to dry 30,000 bu. of corn down 10 moisture points (from 25% to 15%) it would take about $3,000 worth of propane (figuring 5,000 gal. at 60 cents a gal.).
"Corn produces 425,600 BTU's per bushel or 7,600 BTU's per lb. Propane produces 92,000 BTU's per gallon. So, in a 24 hour period, you'd use 19.28 bu. of corn instead of 88.73 gal. of propane.
"It would take 1,080 bu. of corn to dry the 30,000 bushels. If corn is selling for $2.50 a bu., your cost is $2,700. When corn is at $2.00, the cost drops to $2,180, making the corn, when used for drying, worth $2.76 compared to propane costs.
"If you estimate interest on the $2.00 corn for one year at 17%, that's an additional 34 cents per bushel savings. To this add a saving in storage costs of 36 cents per bushel and transportation costs of 6 cents per bushel.
"Added up, it pencils out to a total value for corn used for drying of $3.52 per bushel ù when you start with $2.00 corn.
"Another economic advantage of the shelled corn drier burner is that it can be fueled with damaged corn," Schmidt points out.
The 342,000 BTU per hour unit sells for $9,950. Units are available that kick out 1 million and 3 million BTU's. In the making is a 150,000 BTU model that burns shelled corn and would be suited for heating hog houses.
For more information, contact: FARM SHOW Followup, Holstein Mfg., Box 135, Holstein, Iowa, 51025 (ph 712 368-4342).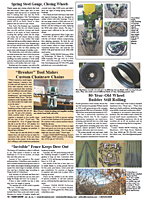 Click here to download page story appeared in.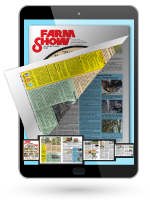 Click here to read entire issue
To read the rest of this story, download this issue below or click
here
to register with your account number.