Breakthrough Seeding System Introduced
You've never seen anything like it - a new way to seed small grains and other crops that reportedly "runs circles" around conventional grain drills. With refinements, it may even compete with conventional corn and soybean planters as an all-purpose planter and the only one you would need, regardless of what type crops you raise.
"Interest is tremendous," reports Keith Ballwet, North Dakota farmer and U.S. distributor of the new Bechard Seeding System. Invented by Canadian farmer, Jerome Bechard, of Lajord, Sask. this first of its kind seeding system "piggybacks" onto pull-type chiesel plows, field cultivators, disks or other tillage equipment, allowing you to seed small grain, spread fertilizer, apply chemicals and prepare the seed bed - all in a once over operation and in widths up to 90 feet.
Seed and dry fertilizer are carried in a 2-compartment, self-contained caddy that hooks behind the tractor. Heart of the Bechard Seeding System is a large fan, powered at 4,000 rpm by a 18 hp. Volvo engine, which creates an air stream. Seed and fertilizer are augered into the air stream and blown, via flexible plastic hoses, to special spouts or boots mounted alongside or behind the shank or disks of a chisel plow, field cultivator, disc or whatever type tillage implement is being used.
Ballwet has conducted several demonstrations in North Dakota and Montana and is taking orders for the new Bechard Seeding System, which is manufactured in Winnipeg, Can. "We sold 15 systems at the very first demonstration," he told FARM SHOW.
Another forced air seeding systems, also developed in Canada, was demonstrated in the Dakotas and Minnesota last summer and fall. Called the Pride Seeding System, it has since been acquired by Prasco Inc., 1820 Selkirk Ave., Winnipeg, Can. "We have made a lot of refinements and plan to produce about 55 units for sale in the U.S. and Canada in the months ahead," Richard Evanson, sales manager, told FARM SHOW. He notes that instead of dry fertilizer the new "Super Seeder" from Prasco will handle liquid fertilizer. It's designed primarily for mounting on chisel plows and is being sold factory direct to interested farmers, according to Evanson.
Although forced air seeding systems which piggyback onto chisel plows, discs or other tillage equipment are new in the U.S. and Canada, the basic concept has been produced commercially for several years in other countries, including Sweden, Germany, and Australia. In Australia, for example, the Connor Shea Co., headquartered on 4th Avenue in Sunshine, Victoria, offers a trailer pneumatic seeder called "The Accurate One", with 40, 48, 56 or 64 outlets. "We introduced this form of pneumatic seeding of both small grains and fertilizer more than 5 years ago," reports a spokesman for Connor Shea.
Here, according to Ballwet, are key features of the Bechard Seeding System:
. The supply of seed (or dry fertilizer) is carried in a separate caddy, rather than on the seeding implement, as with conventional, gravitytype small grain drills. Seed is blown into the ground by air rather than letting it drop down by gravity. The caddy has split compartments for carrying 115 bu. of small grain seed and 31/z tons of fertilizer.
• Because the system can be "piggybacked" on existing tillage equipment, you can seed in a much wider swath - up to 90 ft. - than with a conventional drill, and operate much longer between refills.
• The 4,000 rpm fan provides the air stream which makes the revolutionary seeding concept work. Adjustable augers move seed and fertilizer into the air stream at a preset rate. Flexible plastic hoses direct the airborne seed to outlets at each chisel or disc, depending on the type of tillage equipment being used.
. Since the seed (or fertilizer) is carried in a separate caddy, weight on the discs or shovels remains constant and is not ffected by the amount of seed. As the seed supply runs out, it does not change the amount of weight applied to the discs or shovels. This, in turn, helps maintain a constant depth.
• By simply blowing out the plastic tubes, you can completely c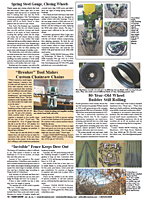 Click here to download page story appeared in.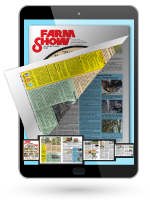 Click here to read entire issue
To read the rest of this story, download this issue below or click
here
to register with your account number.