Sitting service frees farm families
"Dead Farmers Don't Take Vacations!"
That startling headline appeared last year in an advertisement in "Country Foks," a rural agricultural weekly newspaper. The ad continued: "Get Away While You're Still Young Enough To Enjoy Life."
The attention-grabbing ad got a lot of farm couples thinking. Many of them decided that maybe they could get away for a few days' vacation, knowing that Ed and Pauline Drexler could be trusted to "farm sit" for them.
The Drexlers, who ran the ad, live near Fabius, New York. They're ex-farmers and have launched a totally new career ù farm sitting. They'll take care of your farm or ranch while you're away on vacation.
Business has been booming ever since the Drexlers began their farm-sitting service three years ago. "We get calls from farmers all over the Northeast, sometimes up to a year ahead of time," says Pauline. "We've been on nearly 100 farms in half a dozen Northeast states, most of them small dairies, usually for a week at a time."
Their business has grown to include four employees. The basic charge is $125 per day, plus 25 cents per mile each way. Fieldwork beyond daily chores is charged extra and is "strictly at our option," says Pauline. "Only if we feel that the chores are going well enough that we're not risking anything in the barn will we do fieldwork."
The Drexlers get most of their business through advertising in regional newspapers. They currently have bookings into August, 1988. "We do a lot of repeat business," Pauline points out. "Our best customers know that if they want a particular person to farm-sit for them on a particular day, they should book as far ahead as possible."
Generally, the Drexlers arrive the day before the family plans to leave so they can get oriented. "Once the family is gone, we stay right on the farm 24 hours a day until they're back. We follow the regular chore routine as closely as possible. Part of the advance homework includes our sending the family a set of forms to fill out, outlining the chore routine and other details for us. We've never come across a farm operation we couldn't handle. Ed can operate just about every type of farm machine except maybe a big combine ù and most customers probably wou11n't want him doing that anyway.
"We've had a few unexpected emergencies but nothing too serious. On one farm, for example, we ran out of water. The owner forgot to tell us there was an auxiliary well. His silo also ran out of haylage while we were doing chores and suddenly started dispensing high moisture corn," Pauline recalls.
The Drexlers approach farm-sitting as a business. "We're available 12 months a year, 7 days a week. Some people do relief milking but we're different. We have employees available at all times, and we have backup employees to cover our own emergencies. If one of us breaks a leg, it's not the farmer's problem because at least one "floater" is always available."
One customer who's impressed with the Drexlers' thoroughness and quality of employees is Robert Miselis, who operates a 60-cow dairy farm near Durhamville, N.Y. "Before we knew the Drexlers, we took only a couple days of vacation here and there. Now, we take two weeks of vacation each year ù one week in the summer and one in winter. To get the weeks we want, we schedule with the Drexlers a year in advance.
"It's hard to believe there hasn't been a farm-sitting service like this before," notes Miselis. "If those who provide the service do a good job, they can charge a decent fee because it's worth a lot to get away on vacation and know that everything back home will be taken care of when you're gone."
Pauline offers this advice for anyone thinking about setting up a farm-sitting service: "If you think the business will put groceries on the table steadily for the first eight months, think again. This business is pretty sketchy in the beginning. You must have some other form of income that you're not committed to day in and day out. There's also the matter of liability insurance, which isn't cheap. We formed a corporation to reduce our liability. The corporation carries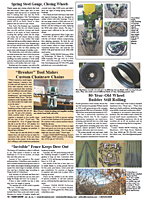 Click here to download page story appeared in.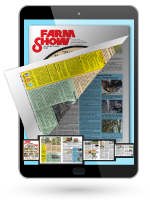 Click here to read entire issue
To read the rest of this story, download this issue below or click
here
to register with your account number.